Today was my last day with the rental car and I was going to be returning it tonight. The sun was out and the temperature was going to hit the middle 60's. I wanted to go exploring on my own one last time. I grabbed another breakfast of French toast sticks from Jack in the Box and headed Northwest of Las Vegas to Mount Charleston.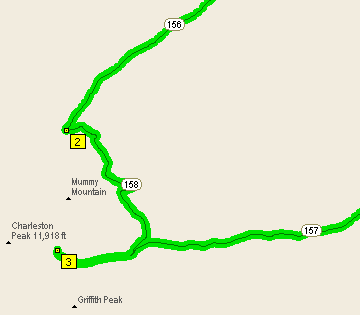 Roads around Mount Charleston, Nevada
156 rose up from the desert floor and went straight up for at least 4,000 feet then it started to twist, a bunch of sweet turns on this road and nice views, nothing like the Nevada I've seen so far, there were forests up here made up of evergreens and the rocks were gray and pale beige, not the colorful shades of orange, brown and gold.
157 and some snow
on top of the peak
The road climbed to 8,500+ feet in elevation and it was very pretty up here, also chilly. There is a ski area here but I didn't see too much snow at the top, only a dusting of it, maybe there is more just I couldn't see it from here.
157 in the distance
After driving 158, I turned right on 157 and went all the way to the end, there was a hiking path here so I decided to check it out. This area had many trails to choose from, but at 7,000 feet in elevation I was soon out of breath as the trail climbed up the mountain. The air was so clean and crisp out here with a hint of pine scent, I climbed back down. The mountains on this side were littered with charming cabins. I drove up for a closer look. The houses had neat little decks with awesome mountain views.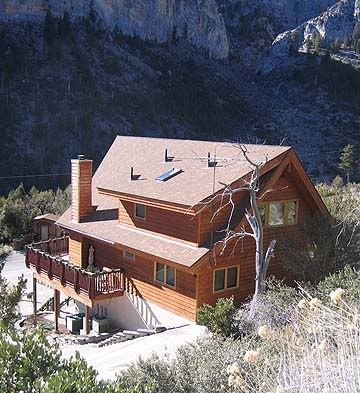 Cabin with a view on Mount Charleston
I took 157 back, it twisted more than 156, better scenery and curves. I drove down the mountain to the desert but before continuing to the next park I stopped by Jack In The Box and grabbed a chipotle grilled chicken sandwich to go and a eggnog milk shake.
Donkeys crossing - modified sign on 157
Then I proceeded to Red Rock Canyon, admission was $5 per car, only $2 per motorcycle and there were a few motorcycles here but this isn't the best park to bring a bike, the road around the park is a single lane going in one direction, the speed limit is a painful 35 MPH and this park was very crowded with tourists today, since it's the closes park to Las Vegas, I'd imagine it gets more visitors than the other parks I visited.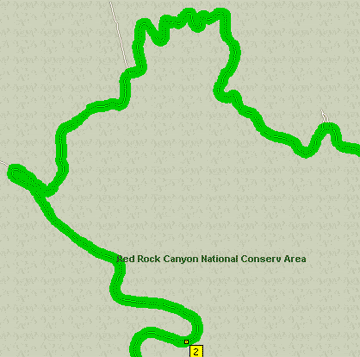 Red Rock Canyon scenic drive

The first thing on the agenda was to find a picnic area and eat my lunch. I found a nice table overlooking some rocks, ate and then I drove to the first and best attraction, the Calico Hills. I could have spend a week just hiking around these rocks here. These were much better for climbing than the Rocks of Sedona or the rocks at Lake Mead or Valley of the Fire. And there were so many rocks here, all connected, it would probably take me a week to get from one side to the other.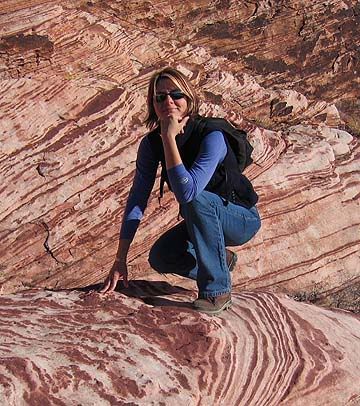 Climbing Calico Hills
I found a small section to climb, the views were amazing, how can nature create so many different kinds of rocks, all so beautiful and so different. It was a blast climbing these rocks, they were placed so perfectly for climbing. The only thing was getting way from all these people here at the park, they were everywhere, even on the rocks. As I climbed down between he rocks I found some cut flowers that someone had placed there, maybe someone had died here. You could easily slip and crack your neck. In the distance people were scaling rock walls using ropes and rock climbing equipment, I prefer to climb without, while I can't climb vertical walls using my bare hands, I can get up there pretty high as long as I have some footing and a place to hold on to.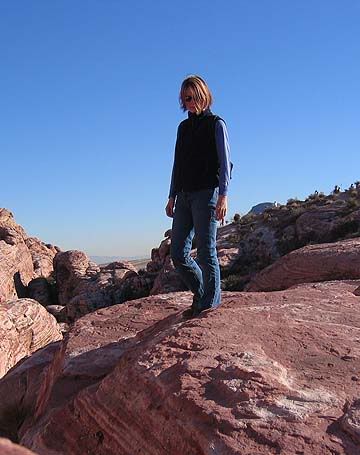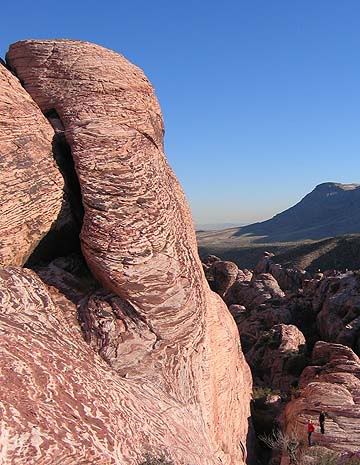 Red Rock Canyon scenic road twisties
I drove through the rest of the park, it was pretty but nothing else was as pretty as Calico Hills. I continued back to Las Vegas to return my rental car. The red Chevy Cavalier now had 1,600 miles more than it did last week. It served it's purpose and saved me a lot of money in gas.
We grabbed some dinner tonight at the Bahama Breeze, never been to the one in Chicago, I ordered linguini with shrimp and a glass of wine. Then we went to a show at the Rio called Erocktica, sex, sweat and rock and roll. We had four free tickets and the boys wanted to see a real Vegas show with topless showgirls. When in Rome you do like the Romans.