It's very clear that some tires are taller than others. Being a shorter rider and not able to flat foot any of my motorcycles, having lower tires is nice. I don't like to add on any more height to my motorcycles.
But which tires ones are low? There are no dimensions written down anywhere when you are buying motorcycle tires. It's not until you get two sets together and start to compare them, that you can see which ones are taller and which ones are lower.
The Pirelli Stradas are definitely taller then the Avon Azaro, both are same size tires. I though the Pirelli tires were more pointy, therefore taller, but the Azaros front is actually more pointy then the Strada front, and the Strada back is more pointy then the Azaro back. Kind of a funny combination, you would think a pointy back would get a pointy front.
Front - Pirelli on the left and Avon on the right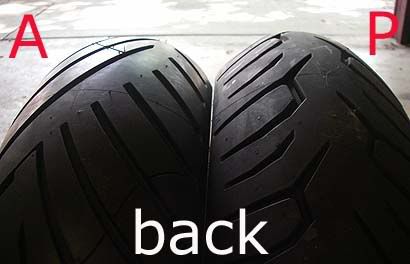 Back - Avon on the left and Pirelli on the right