At about 1:30PM I took off from Corse Superbikes in Saukville, WI. I was heading North, with no particular destination. I had a few hours to kill, but I had to be in Vernon Hills, IL at 6PM for the ST.N dinner.
First I stopped by Harrington Beach State Park. Not much of a park, just a road that dead ends at Lake Michigan.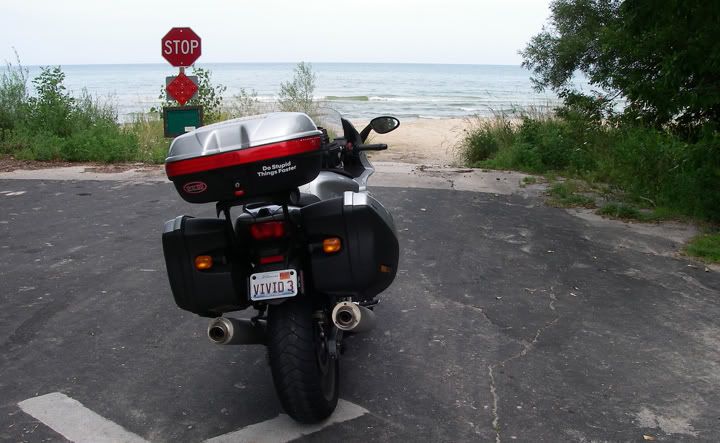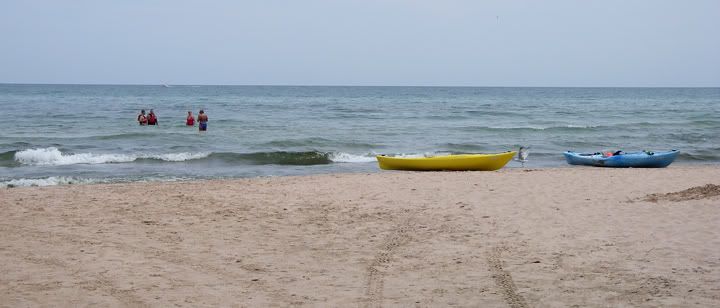 Harrington Beach State Park

Next I rode to Port Washington, WI. It was hot so I stopped at the local McDees for a milk shake, the building looked like a lighthouse, I bet that's because there is a lighthouse in town.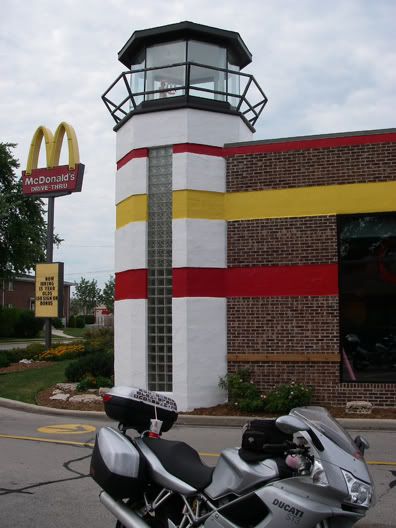 Port Washington McDonalds shaped like a light house
Further down the road I saw some signs for a lighthouse, I rode around but I couldn't find it anywhere, so finally I ended up parking the bike and decided to walk around near the lake.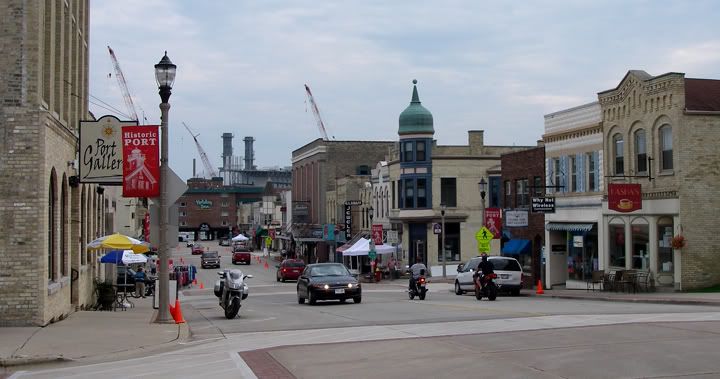 Port Washington, Wisconsin
From the marina I saw a breakwater and light on the water. I started walking toward it. The Port Washington lighthouse does take a bit of a walk to be able to stand under it. It's about 2,500 feet along a breakwater of steel decking, very large stones and concrete. The red light mounted on the top of the lighthouse is classified as a harbor light. It flashes once every 6 seconds.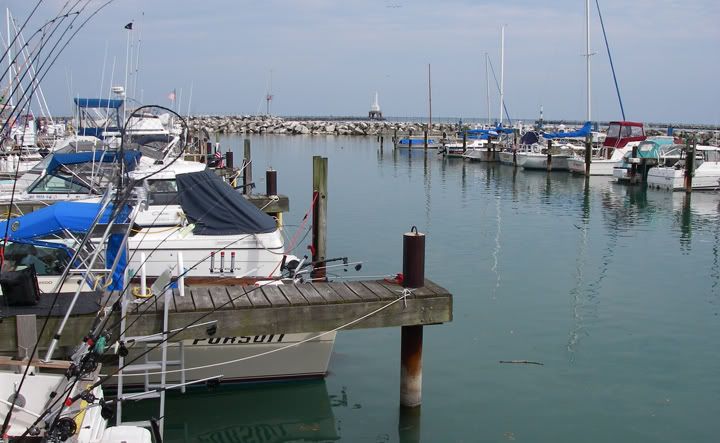 The light (way back there) from the marina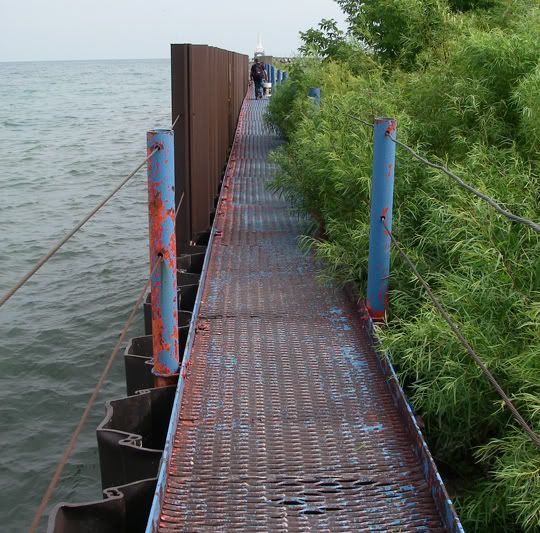 Walking to the lighthouse
Getting closer now

The Port Washington lighthouse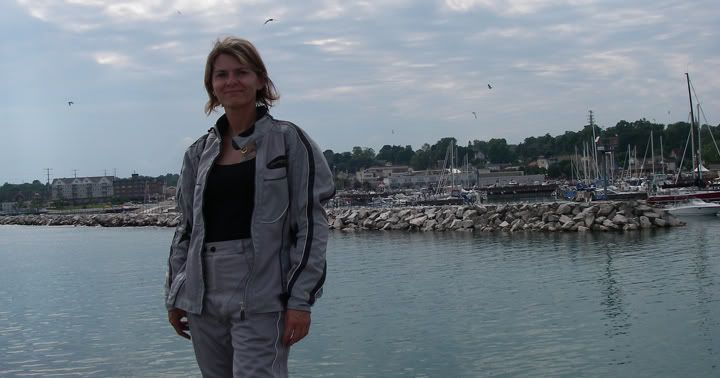 Facing the lighthouse with Port Washington behind me
This was a bit of a walk, I was hot and decided to head back to the bike. Then, I looked towards this big hill, there was a bunch of stairs going up and a blue sign, I walked over to investigate. Supposedly up there was the light station. I climbed the many steps, by now I was really hot and sweaty.
Getting ready to climb to St. Mary's Hill
I made it, looking down from St. Mary's Hill
Light station on St. Mary's Hill, Port Washington

The light station was constructed in 1860 on a high bluff overlooking Lake, it hasn't been used since the early 20th century. It was replaced by a lighthouse at the end of a pier that jutted out into Lake Michigan.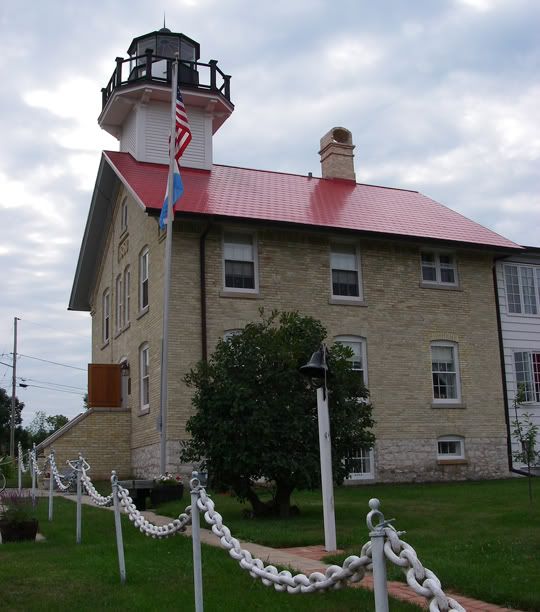 Port light station was restored in 2002 with the help of the country of Luxembourg to honor the 70,000 U.S. servicemen who helped liberate the country during World War II and because so many of its immigrants settled in Ozaukee County.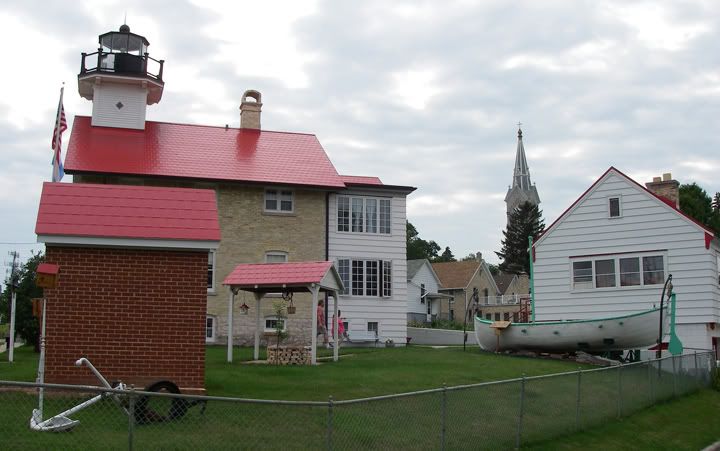 I climbed the many steps down, got on the bike and took off further north to Sheboygan. I headed toward another state park but when I got there I noticed there was a fee to enter, maybe some other time. I took a bunch of roads and started to head over to Harbor Centre. I've never been to Sheboygan or Port Washington but I remembered that these towns were littered with lighthouses. I got caught up in some nasty construction and decided to head to the interstate, I will have to see the lighthouse some other time I guess, I ran out of time, in a few hours I had to be in the northern Chicago suburbs.
Funny thing is when I got home I looked up the lighthouse for Sheboygan on their website, I couldn't find any listing for it. I did find it on a another website, Sheboygan Breakwater Lighthouse does exist.
At 6:15PM I arrived in Vernon Hills, IL at Tsukasa of Tokyo.
There were 14 people here from ST.N, the first 10 that arrived including me sat at one big table together. I ordered white fin tuna teriyaki and fried rice, yum.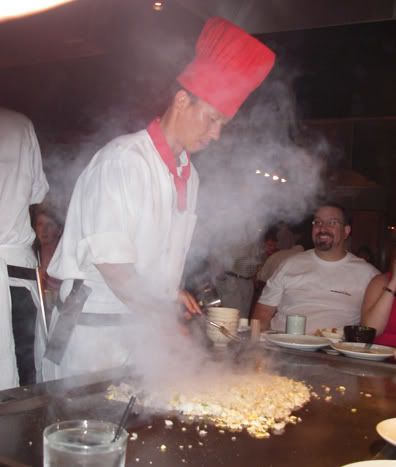 Fried rice being prepared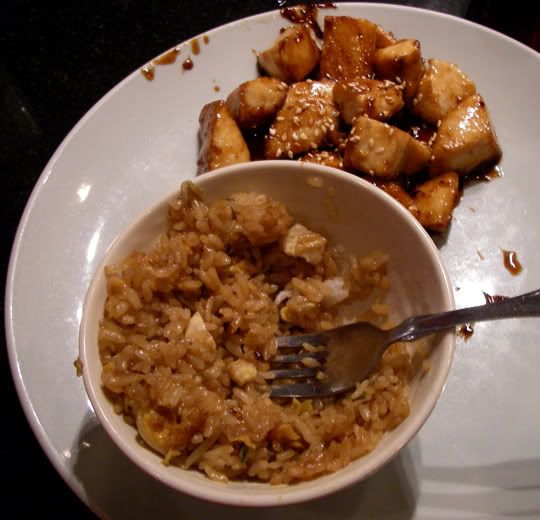 Tuna steak teriyaki well done
After dinner we all kind of lingered in the parking lot for a bit, then I took off for home taking the toll way, it was still warm out, traffic was moderate but not too bad, I was home by 10PM.