Time to get some new tires on the 954RR and ST3. The 900SS also got new tires in June. That's 3 sets of tires, on three bikes this summer, oh my.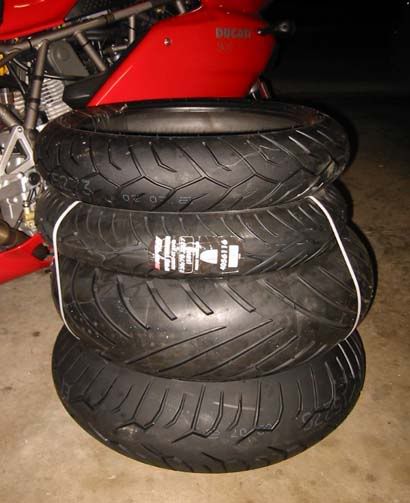 Pirelli Strada and Avon Azaro tires waiting to get mounted
When I bought the 900SS two months ago, the bike still had the original tires from 2000, I ordered my favorite performance tires, the Metzeler M1 Sportec.
The 954RR is getting the Pirelli Diablo Strada next (I did the buy rear tire get free front tire promotion from Pirelli earlier this year).
The tires on the 954RR right now are done. The front is a Bridgestone BTO12 with 13,000 miles, it's very badly cupped. The back tire is a Bridgestone BTO20 with 11,000 miles, it still actually has some life left but since I have to replace the front I'm going to replace the back right now also. I don't think I'll ever run a Bridgestone tire on the front again, they always get cupped. I used to run a M1 on the front which I could get 20,000 miles out of and I'd run a BTO20 and the back, that is my favorite tire combination for the 954RR. I'll probably do that again once the Pirellis are done.
The ST3 currently has the original Michelin Pilot Road tires which I don't really like. They have 8800 miles on them and still probably have another few hundred miles of life left but I need to get new tires put on for the big trip out west. The ST3 is getting the Avon Azaro ST (45/46) tires. I've wanted to try these tires for a while, people really seem to like them.
So I have two bikes and two sets of tires. I'm putting the Avons on the ST3 because they seem to have a better reputation, and are one of the favorites for touring. The Strada is getting mixed reviews, some people seem to like them and some say that the back tire looses traction a lot, especially on bikes with a lot of torque. That's why I decided to put the Pirelli Stradas on the 954RR and the Avons on the ST3.
New tires:
900SS - Metzeler M1 Sportec
ST3 - Avon Azaro ST (45/46)
954RR - Pirelli Diablo Strada