141 is my favorite motorcycle road in Colorado. It is also part of the Unaweep-Tabeguache Scenic Byway.

There are no climbing switchbacks here, no significant elevation changes, no hairpin turns either. Just beautiful scenery, good pavement and a road that swings back and forth for miles and miles while hugging the banks of the muddy Dolores River. Ah, and even on the weekends the traffic is light.
I first rode this amazing road in the summer of 2004 on my 954RR from North to South. Back then there was no resort at Gateway and no gas available between Naturita and Grand Junction, which is some 100 miles.

Not a big deal really, if you planned ahead. Starting 141 up north at Grand Junction if you got gas there you would make it all the way to Naturita or beyond. And if you wanted to ride 141 starting down south you just had to gas up in Naturita so you could make it all the way to Grand Junction.
Sandy and I pulled over on 141 taking in the scenery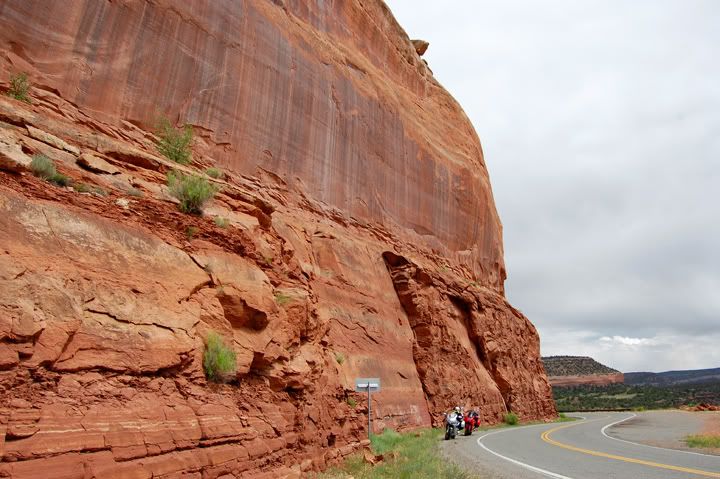 The 954RR will travel about 150 miles before running out of gas, I don't remember ever being worried about running out of gas on that bike until I rode the 954RR to Colorado in 2008 and rode 141. This time I was riding from Moab, UT where I gassed up last. As I turned from 90 east on to 141 North, it was already late in the afternoon and at this point reaching tonight's campsite was already not very realistic, but I wanted to get as far as I could.
That's the Dolores River down there
A cactus blooming along highway 141
A motorcycle riding through the red rock canyon on 141

As I got ready to turn on 141 I glanced at the sign that pointed toward Naturita, thinking I should fill up with gas over there before heading north, but Naturita was about two and a half miles east and I needed to go west so I decided to get on 141 and chance it. I kept calculating in my head the miles left to Grand Junction and the gas I still had in my tank and I was thinking that I had a good chance of making it to Grand Junction.
Sandy enjoying the sweepers along highway 141
Picture taken from the camera mounted on the bike
As we got closer to Grand Juction, we were getting closes to rain
Well, sure, if this wasn't my favorite road in Colorado I would have had a good chance to make it to the next gas stop. But this road just flows oh so nice, the curves here just beg to be ridden hard and fast, especially in the direction which I was heading. Something about this direction, the curves just flow so nicely for me. The resort at Gateway saved me that day, since I was riding at high RPM's for hours and wasting more gas then I should have. When I pulled up to the resort at first I was disappointed that even this road and area was starting to get developed. But as I gassed up and grabbed some food at the store, which had everything which one might require, from bananas to hot burritos, I continued to east toward Grand Junction relived that at least now, there was a place to stop at and get gas and food. The resort is pretty cool.

Today was my third time riding 141, and again, I was riding it in my favorite direction from south to north. And if that wasn't great, in a few days I was going to ride this road again, from the other direction.

Highway 141 is located on the west side of Colorado, the fun portion is about 92 miles long