My friend Sandy showed up at my house in Fort Collins yesterday afternoon. She was a whole day early. She ended up riding out with Scott, another sport-tourer who was also riding from Illinois to Colorado and they made some good time getting out here. I unfortunately wasn't ready and Sandy knew that when I spoke on the phone with her yesterday. I was packing since I had to move out of this house at the end of the month. I was trying to get done as much as I could before the trip, so leaving a whole day early was going to be tough for me.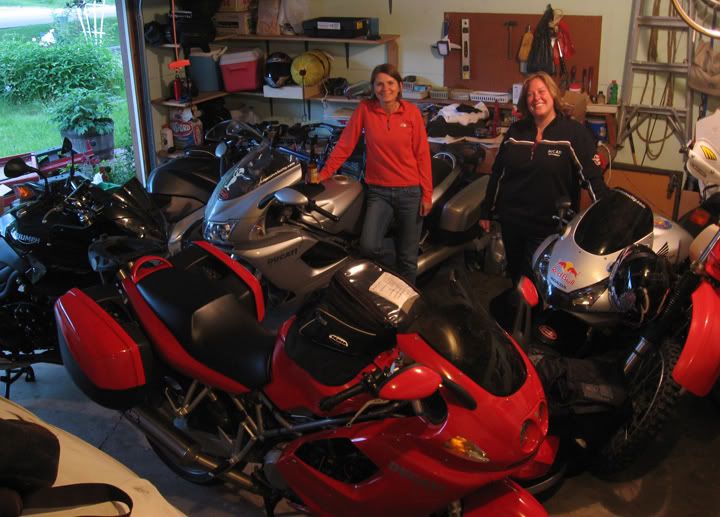 Sandy and I last night in my garage so full of bikes now

As it so happens, I live in an amazing area for motorcycling, and this house I'm renting is a pretty cool place to entertain guest, with plenty of rooms. There is a large balcony with a full size picnic table on it and a BBQ grill. So last night Sandy made her self at home and decided to make some amazing chicken on the BBQ grill. While we were washing the food down with the yummiest Fort Collins beers, we decided we didn't have to head out and go touring tomorrow. We could just do an excellent day ride around Fort Collins and hang out at the house one more night for free and head out to Gunnison on Tuesday morning. Scott was having issues with his chain, so he liked that idea, it gave him more time to find a new chain for his Aprilia.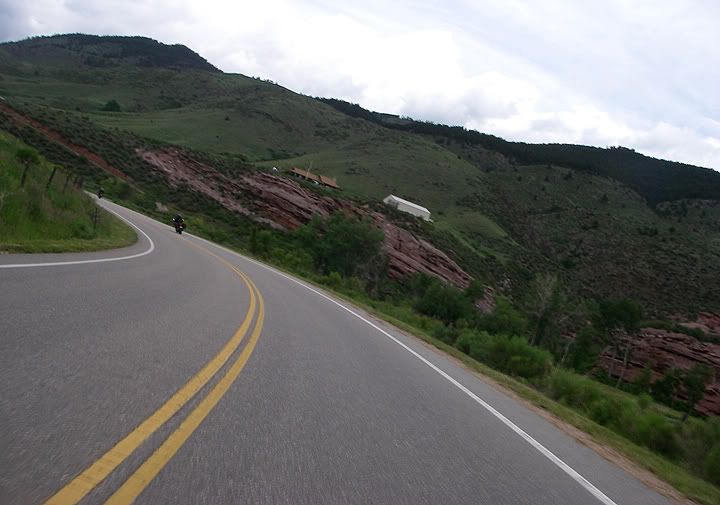 Stove Prairie Road has the smoothest pavement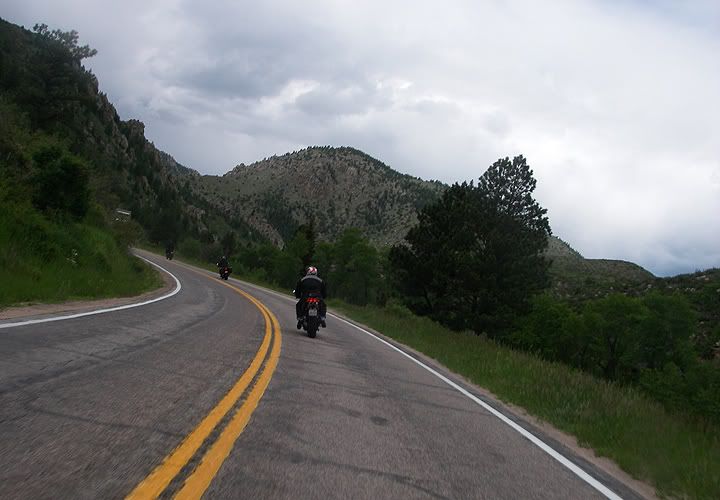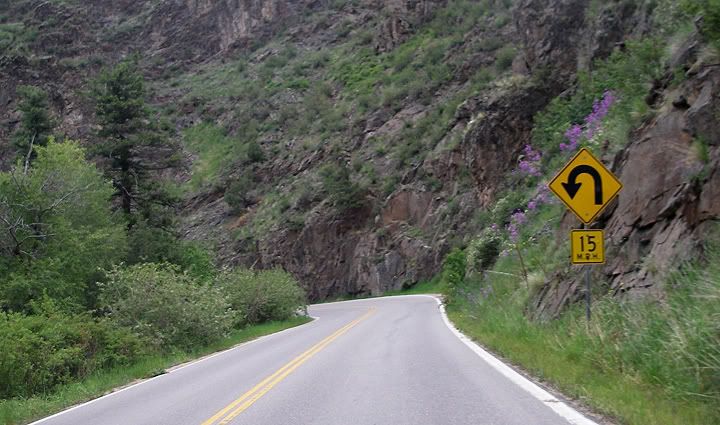 Stove Prairie Road has lots of tight corners

So today that was the plan! We were going to do an excellent day ride around Fort Collins. The roads were of course going to be Stove Prairie and Poudre Canyon. Today was also Mike's day off and he was already planning on riding. So the four of us headed out for a ride. The day was cool and there was some rain expected in the mountains. We left Fort Collins and within 4 miles we were hitting some 20MPH curves up to the foothills. It was a Monday so the roads were pretty much empty. After 38 also know as the Stove Prairie Road we turned west on to 14 also known as the Poudre Canyon.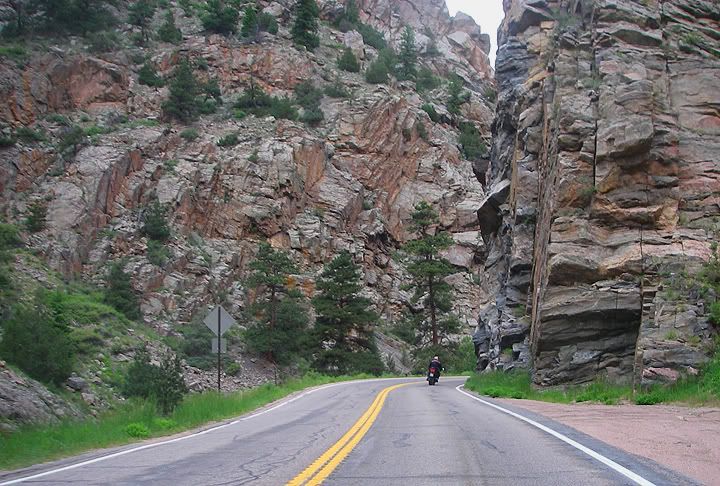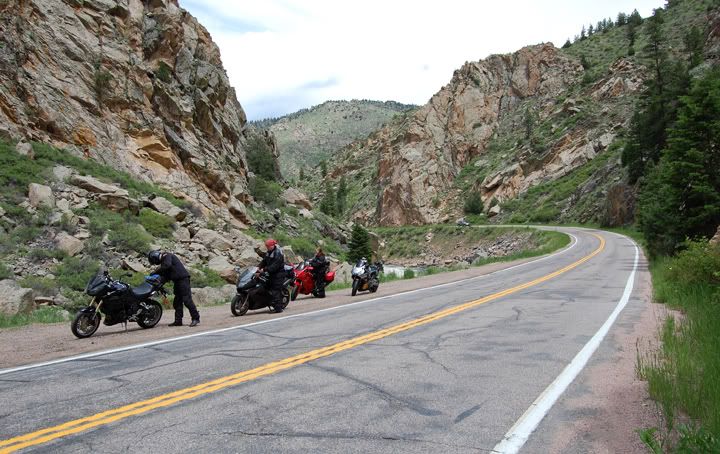 Checking out the Poudre River on 14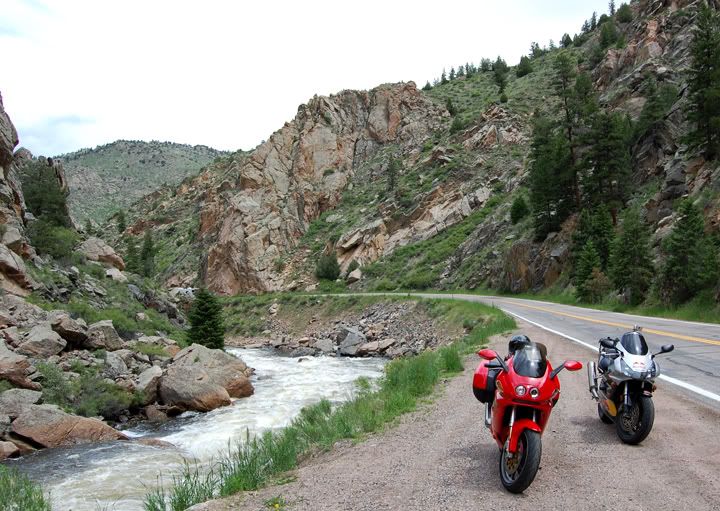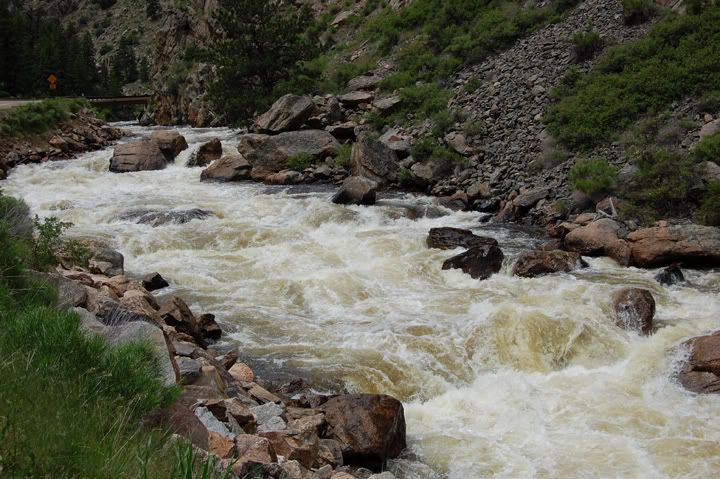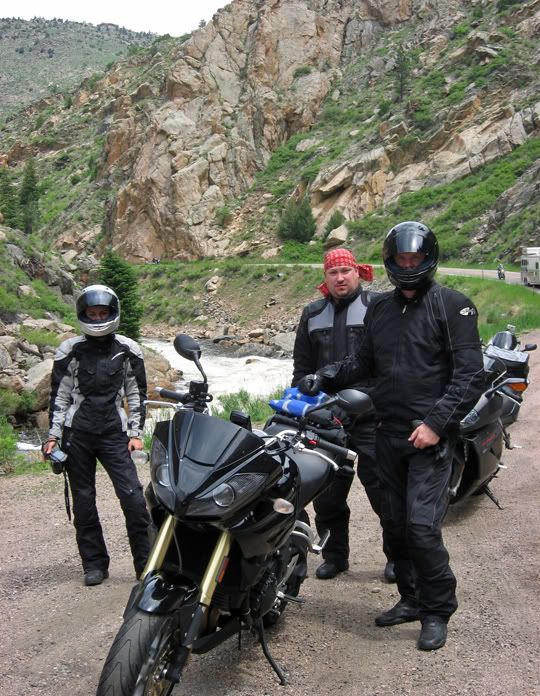 Sandy took this one of me, Scott and Mike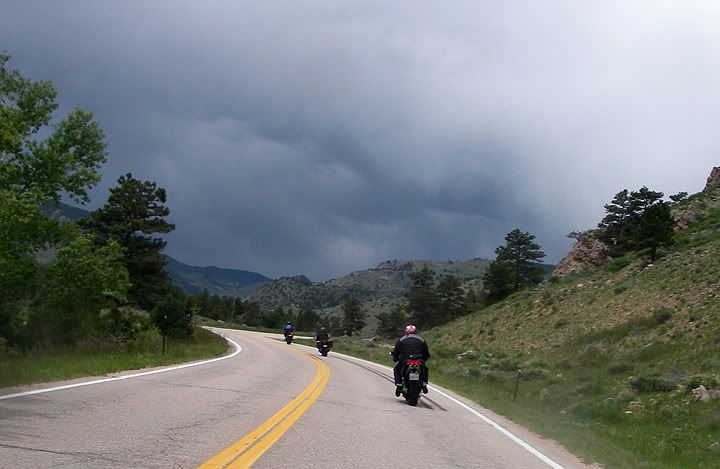 Heading in to dark rain clouds on Poudre Canyon Road

The further west we headed the darker the skies became. We knew the possibly of us getting wet was a good one, but what happened next I have only read about in other people's ride reports. The rain started to fall and it started to get colder as we climbed in elevation, then near Cameron Pass the rain turned to snow. It was actually snowing on us! Here in Colorado, at high elevations, it can snow at any time of the year.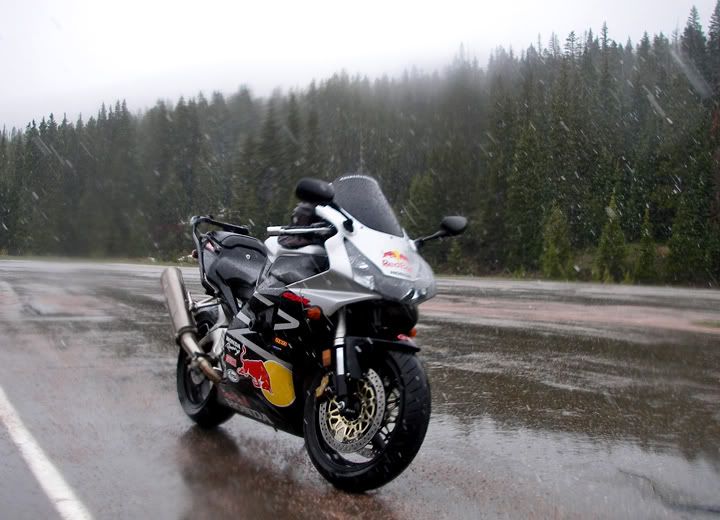 Snowing at Cameron Pass at 10,276 feet in elevation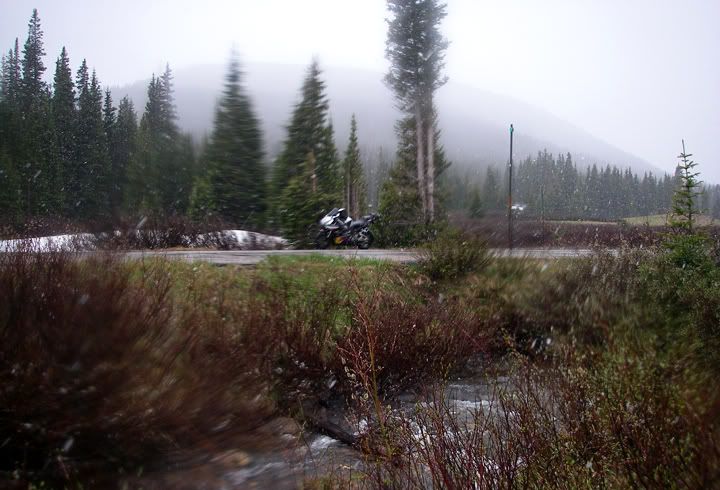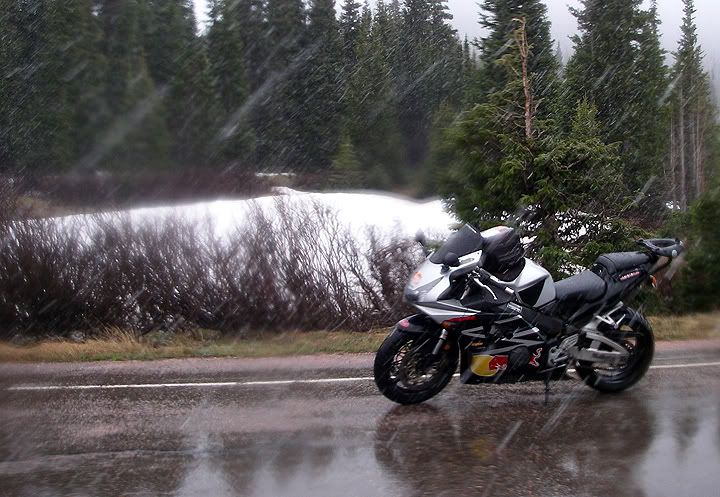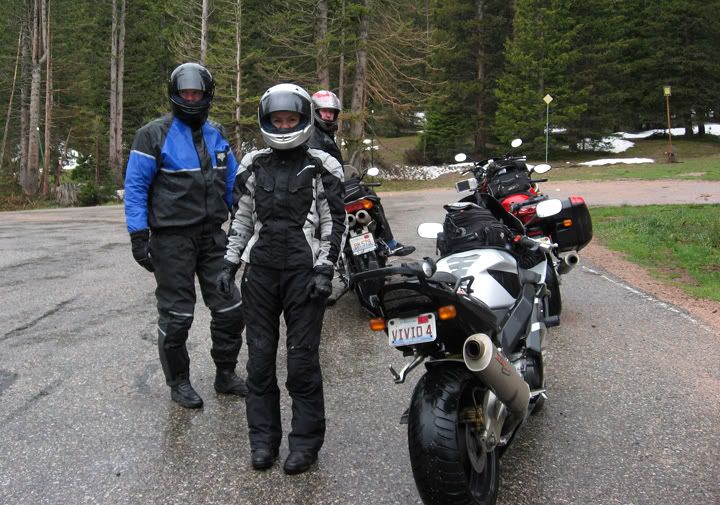 Sandy took this picture, I look cold becasue I was, temp was in the 30's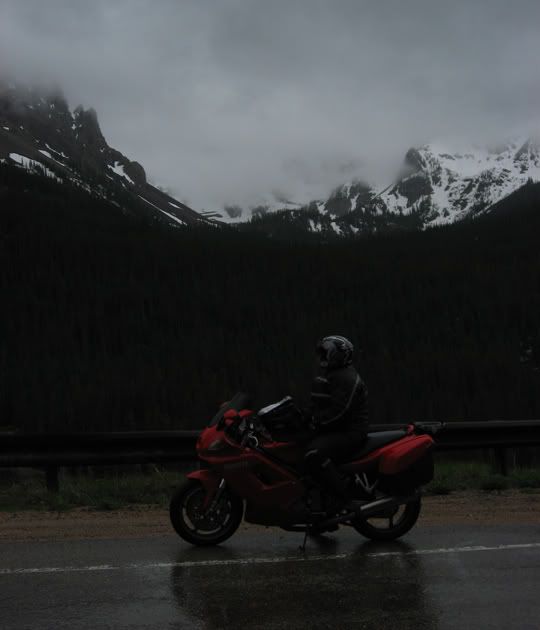 Sandy at the west side of Cameron Pass

I actually thought it would have been cool to take the ST3 on today's ride, since everyone else was on a Euro bike, but I already had the ST3 partly packed and didn't feel like riding with the saddle bags full of stuff when I had a perfectly good "day ride" bike just sitting in the garage. So I took the 954RR. The worst part was that on the last ride the tires already weren't gripping that well in the wet. And today this stuff wasn't just wet, but also slippery.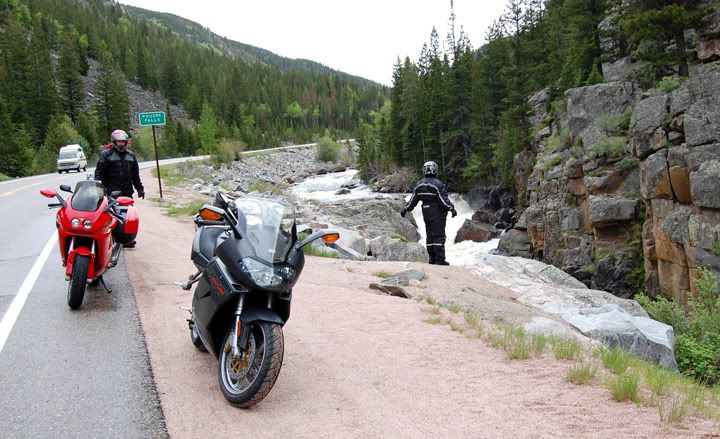 A stop at Poudre Falls on 14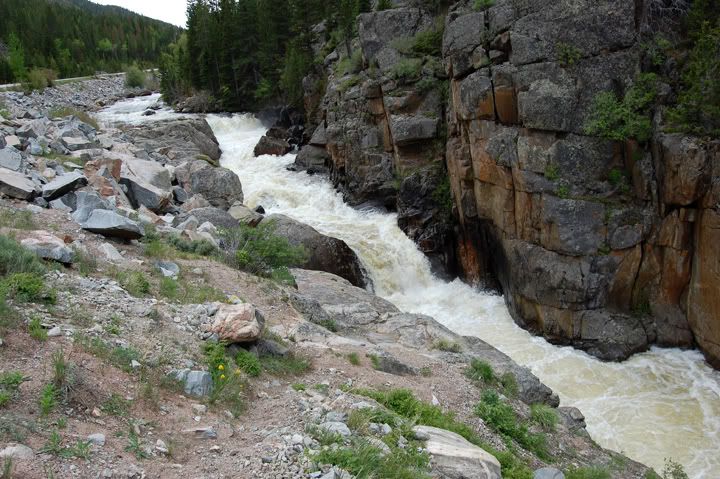 Green Aspen on 14
The Pirelli Stradas on the 954RR had 11,650 miles now and I was starting to slide around some. I let the group go to the west of Cameron Pass while I pulled over and waited for them and watched the snowflakes fall down from the sky. It was actually a really cool sight. The snow pictures would have been cool if my camera lens wasn't all wet. I waited and waited but I didn't see them heading back . About 15 minutes later the snow stopped snowing and I headed further west and found the group.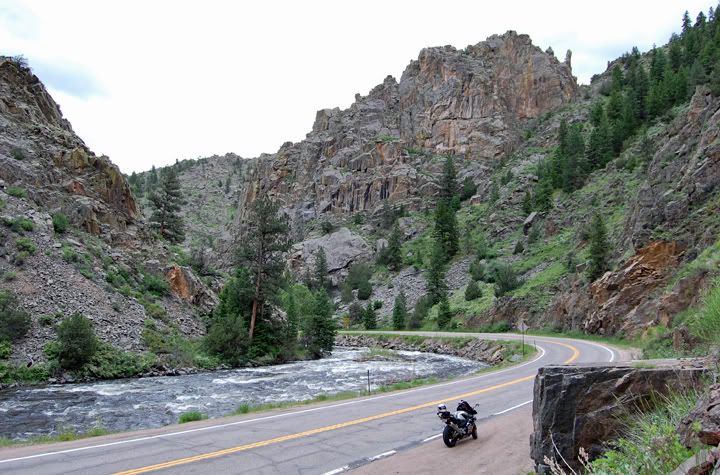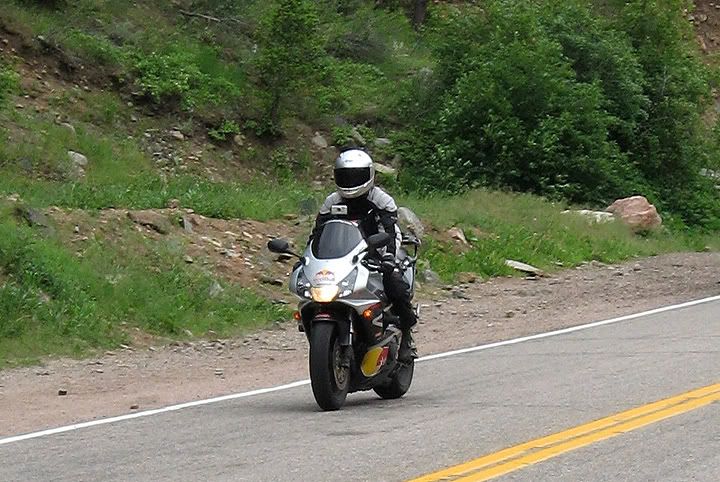 Sandy took this action shot of me

All of headed back to Fort Collins with pretty much dry pavement and no traffic. Heading east on 14 is my favorite direction, so we had a real fun time riding back. Back in Fort Collins we decided to check out the famous Colorado pizza place, Bou Jo's, which I haven't tried yet. We ordered their most popular pizza - ground beef and pepperoni. It was good. Today as more people made their way through Fort Collins to the bike meet in Gunnison this week, I ended up having more guests at the house
.
Fort Collins has lots of motorcycle only parking downtown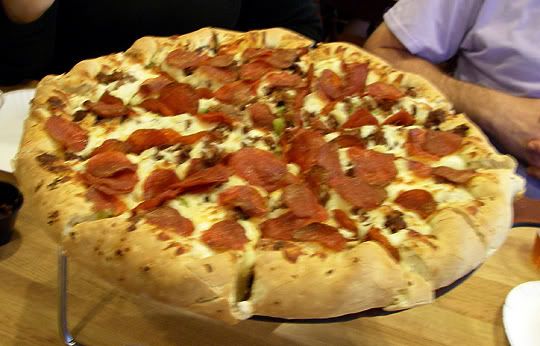 To end a good day of riding, we went to Beau Jo's pizza in down town Fort Collins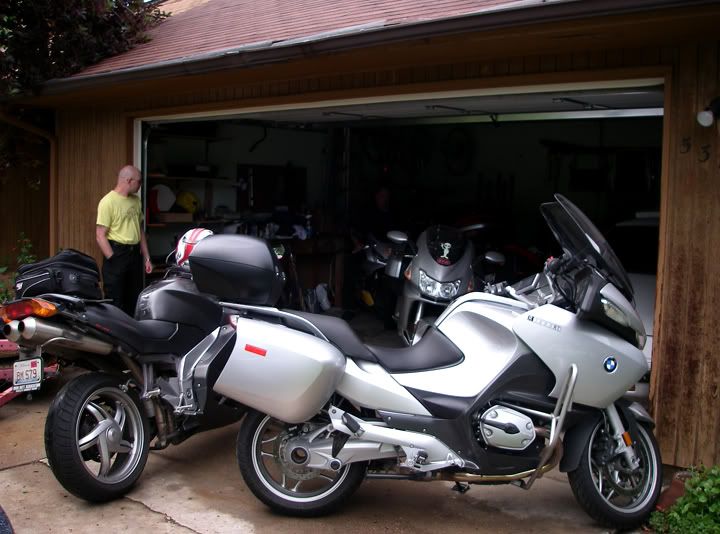 More bikes and visitors at the house