Today was the last day of this trip. Today Dalton and I we were heading home. It was my 13th day on the road. For Dalton it was the 9th. I was sad to see this trip come to an end, I was having too much fun.
After a good breakfast at Victoria's Parlor we left Pagosa Springs. The weather was perfect as we rode east on highway 160. I haven't been on this road since they finished the construction at Wolf Creek Pass. Going up to the pass was awesome, lots of curves and a passing lane. So of course we just passed everyone on our way up. Heading back down from the pass was a different story. There was no passing lane heading down from the pass so we got stuck behind a long slow line of cars.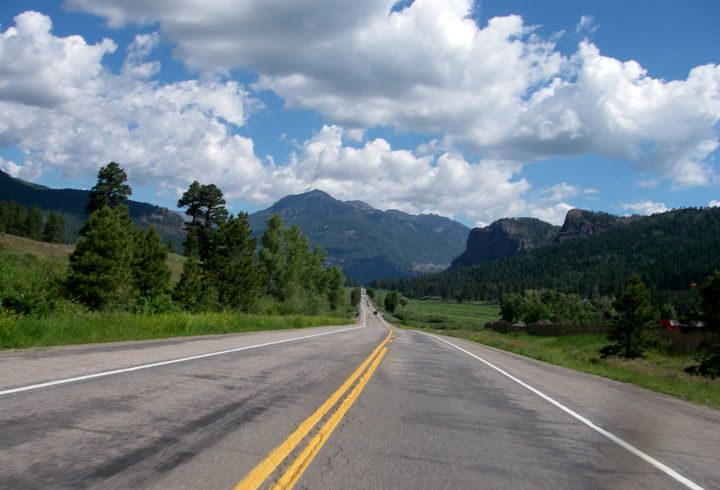 Highway 160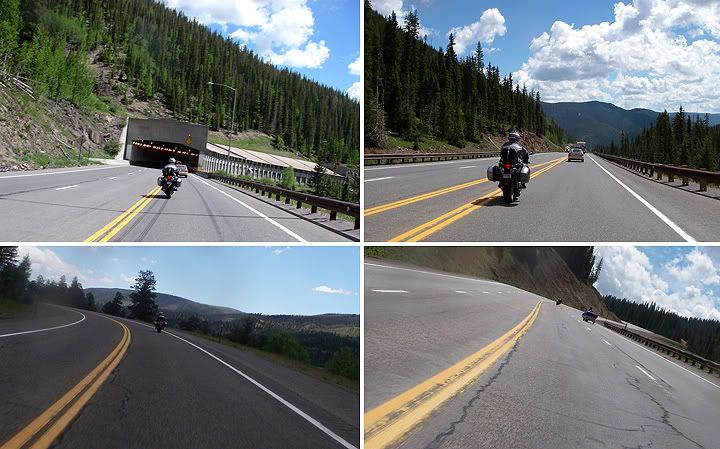 Highway 160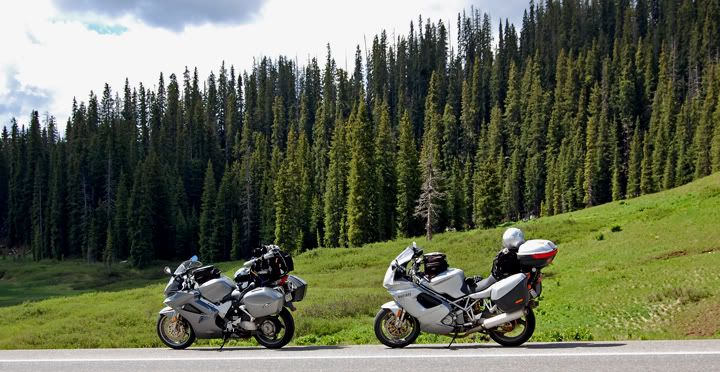 Near Wolf Creek Pass at 10,857 feet in elevation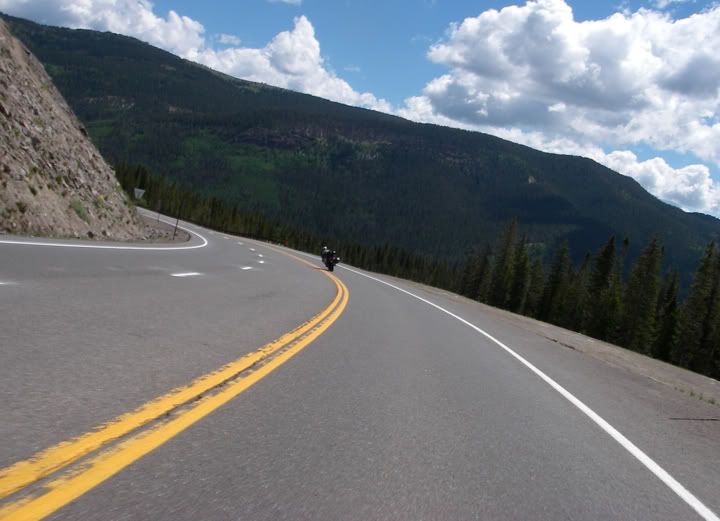 Heading down from the pass on highway 160
We stopped in Buena Vista for some refreshments but we couldn't linger very long. The dark clouds were approaching fast from the west and as we started to gear up we heard thunder not too far away. As we sped off toward the east on highway 285 there were many dark clouds visible in that direction. Rain was imminent.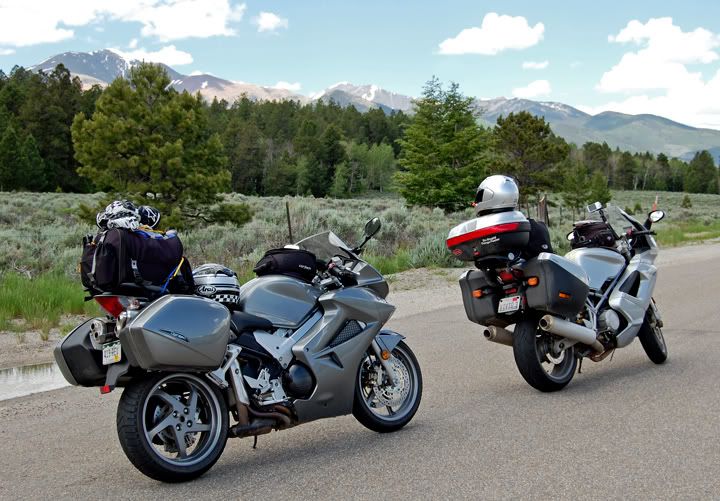 Taking a break on Highway 285 at Poncha Pass 9,010 feet in elevation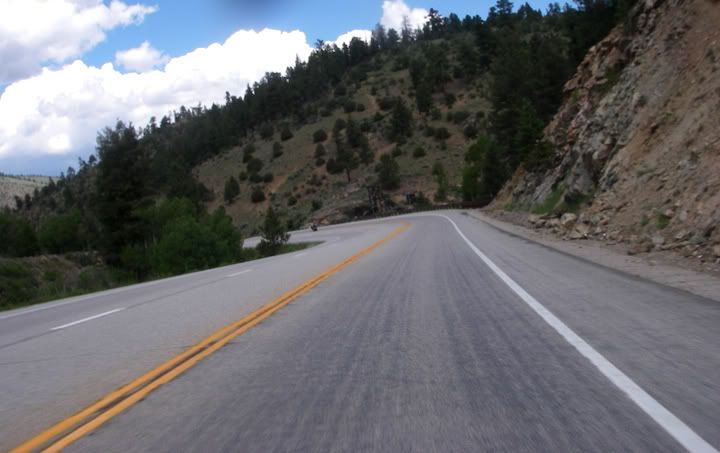 Dalton coming down from Poncha Pass on Highway 285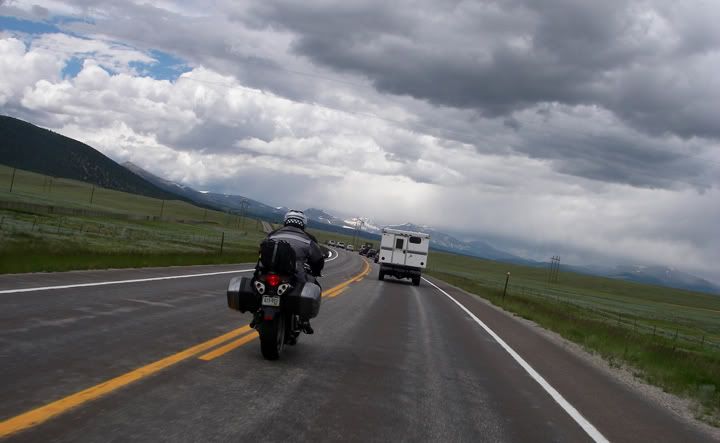 Dark clouds on highway 285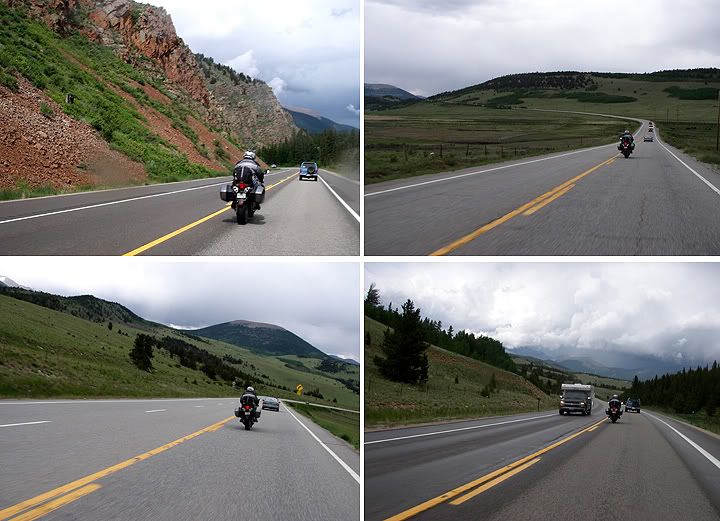 Rain on Highway 285

While it was still dry we tried to make some good time which was hard to do since today was a Sunday, there was a bit of traffic heading in to Denver as people were returning from their weekend in the mountains. 285 is a nice road but there are hardly any passing lanes on it. Makes it tough to pass slower vehicles, especially when there are 40 of them ahead of you, with little space left in between each vehicle. No room to squeeze in to even if you manage to make a pass.

After a few passes we called it quits and settled in to the long caravan of vehicles. Soon after the rain started. It rained hard at times, at times it was just a drizzle, but the rain continued pretty much until we reached Denver. Dalton continued west on I-70 from there and I headed up I-25 to Fort Collins. After 13 days on the road I pulled in to my driveway with an extra 2,986 miles on the ST3.
My 330 mile route today: Highways 160, 112, 285, 470, I-70, I-76 and I-25