Even though we were camping at Mesa Verde National Park
(See last year's post on Mesa Verde)
, when planning this trip I already knew there would not be enough time to visit any of the cliff dwellings this park is so famous for. Since we were already in the park and Dalton has never been here we did ride to the Point Overlook, then turned around and headed out of the park. The road is very scenic and twisty, unfortunately there was a bit of traffic through he park and we didn't get to enjoy all the curves the way we wanted to.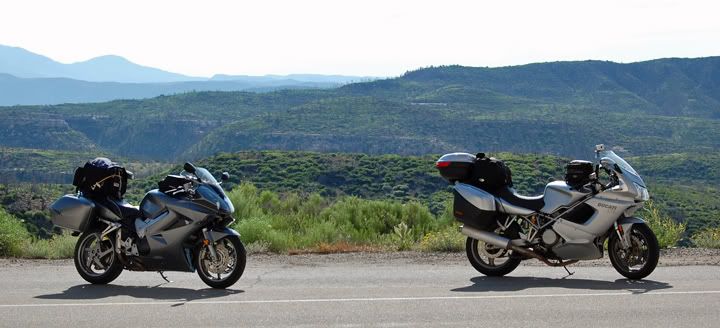 A scenic stop at Mesa Verde National Park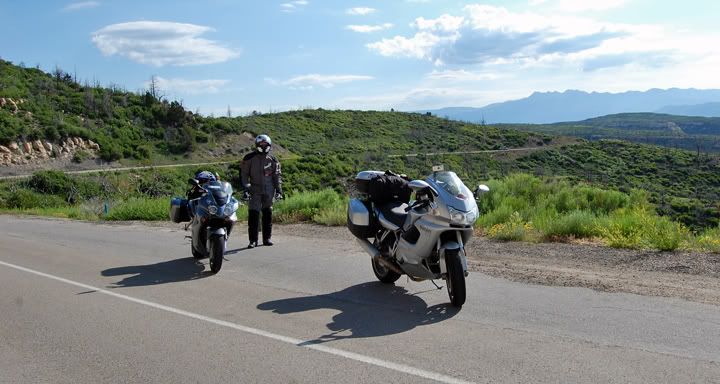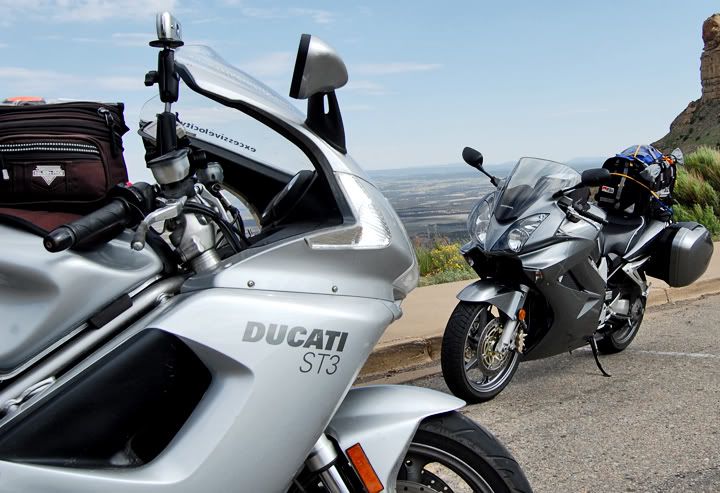 The VFR and ST3 at a scenic overlook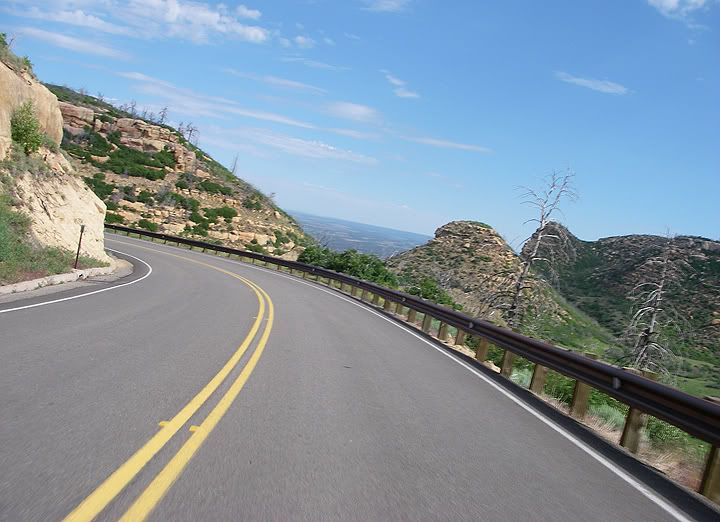 I love the road through Mesa Verde, great pavement and very scenic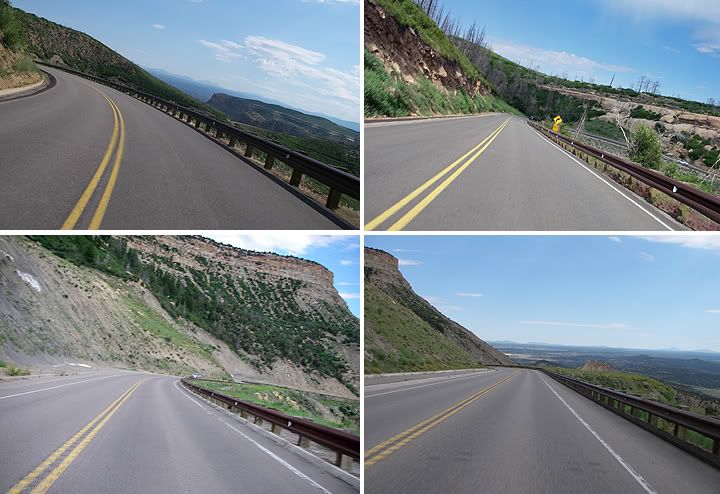 The road through Mesa Verde National Park
From Mesa Verde we headed west on 160 then turned on 491 in to Utah. 491 is kind of boring. If we had more we could ride 90 in Colorado which turns to 46 in Utah, located just north of 491. That road is very nice and scenic with many tight curves, but out of the way, especially since we were heading south.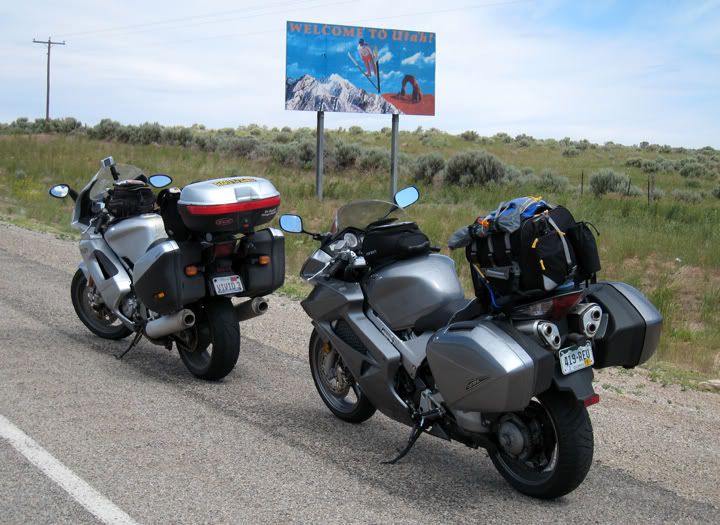 Welcome to Utah

By the time we hit Blanding, Utah it was time for gas and time for food. There was a Taco Time restaurant at the gas station on highway 191 on the south side of town so we decided to eat there. I've never eaten at one of these but the place was busy and the food was good.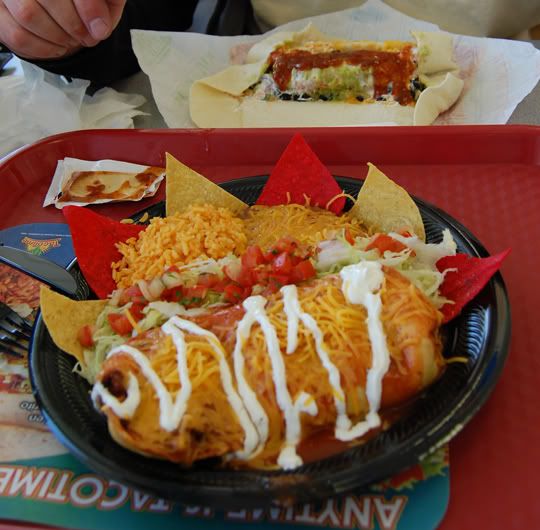 Lunch at Taco Time in Blanding
From here we turned off on my favorite road in Utah - highway 95. Since the Natural Bridges National Monument was on the way, we decided to do a quick ride through the park. I have already read some stuff on the internet about it and knew it wasn't spectacular, but still it was cool to be able to check it, I've been passed it so many times already and have never seen it. Another reason this was a quick stop was because it was very hot. When it hot it's good to keep moving, or just park it. But stopping and going, gearing down and gearing up again, not so fun when it's in the upper 90's.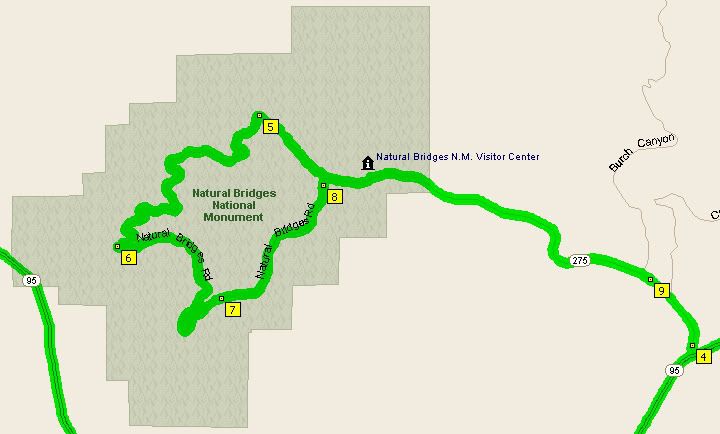 Natural Bridges National Monument in Utah

We stopped at one of the scenic stops in the park and walked to the arch. I suspect the other scenic stops were similar. There was nothing to be seen from the road, you had to park and walk a bit. Kind of reminded of Arches National Park. These kind of parks are not a lot of fun on a motorcycle, especially when you wear full gear.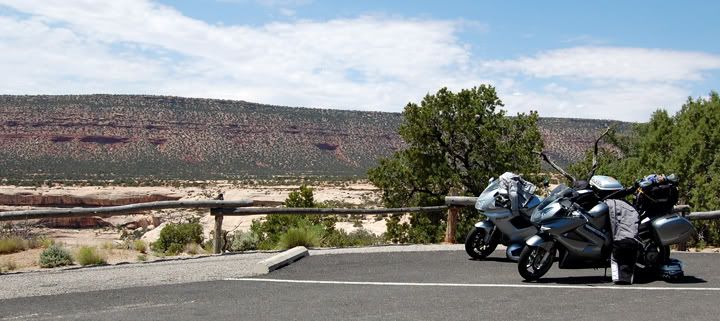 Parked at Natural Bridges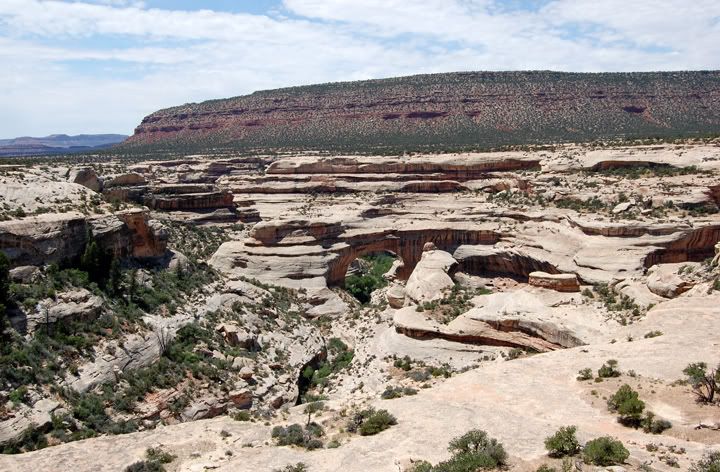 An arch in the distance at Natural Bridges National Monument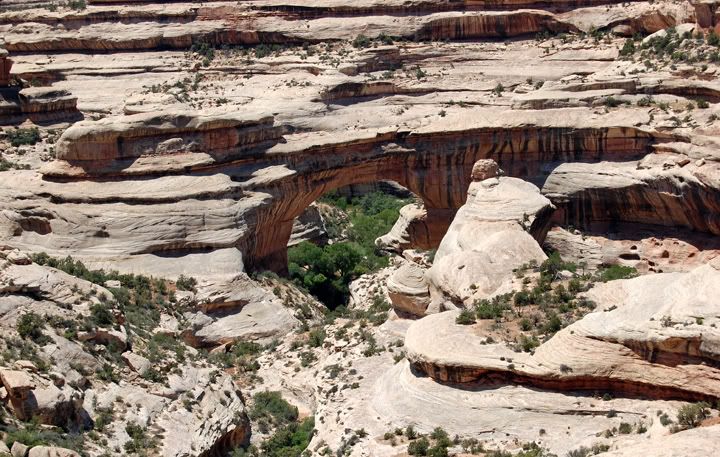 Same arch as in the above picture, zoomed in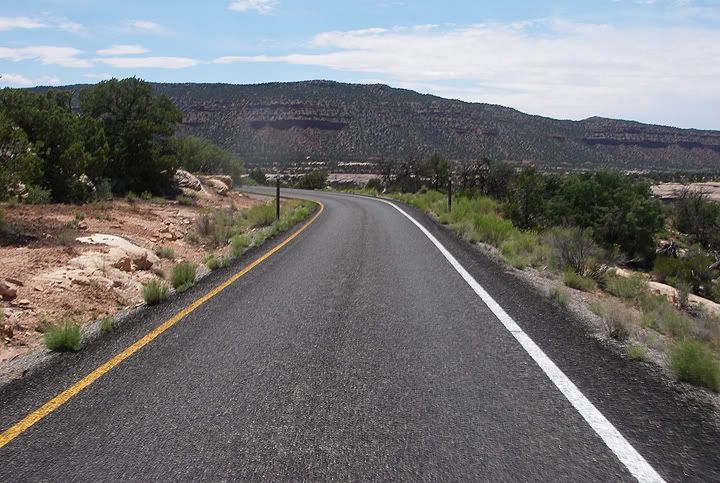 The one way road through Natural Bridges National Monument

By the time we walked back to the bikes we were sweating and ready to go but then we got stuck behind a very slow vehicles and the road through the park is a one way road so we couldn't pass it. By the time we made it around to the visitor center near the entrance of the park we had to stop and get something to drink, we were boiling, my bike was running super hot and radiator fan had been on the whole ride all the way from the arch to the visitor center. Even after I shut the bike down, the fan was still humming for another 15 or more minutes. After filling up our water bottles and drinking some water we took off continuing west on highway 95 reaching Hanksville in the late afternoon. The temperature was still warm so when we stopped for gas and saw that Stan's Burger Joint on highway 95 is famous for their milkshakes we decided to grab some. The milkshakes were great but they were huge.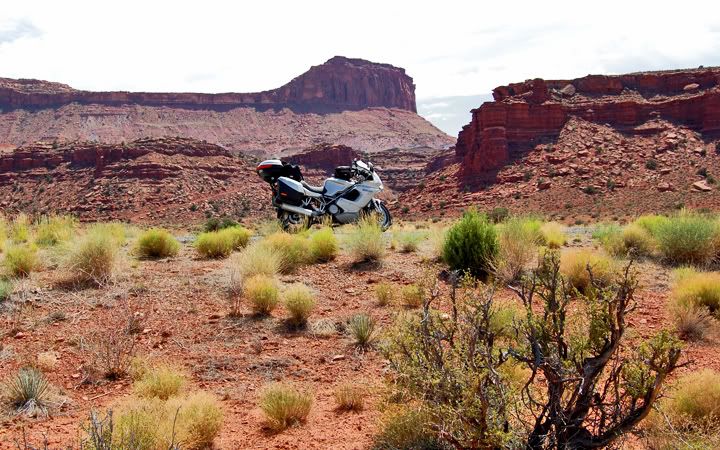 My ST3 on highway 95 in Utah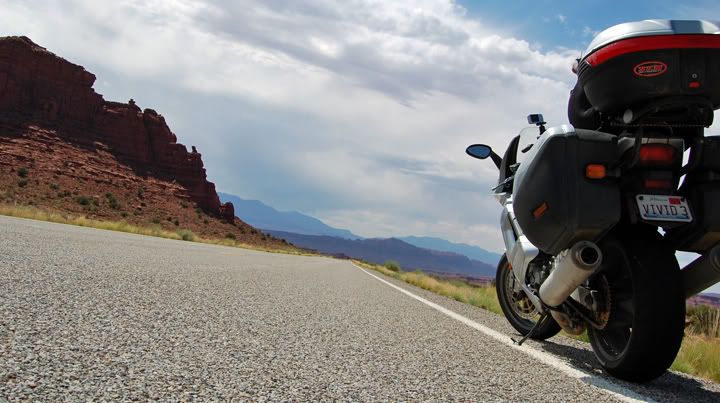 Same shot as above, looking down the road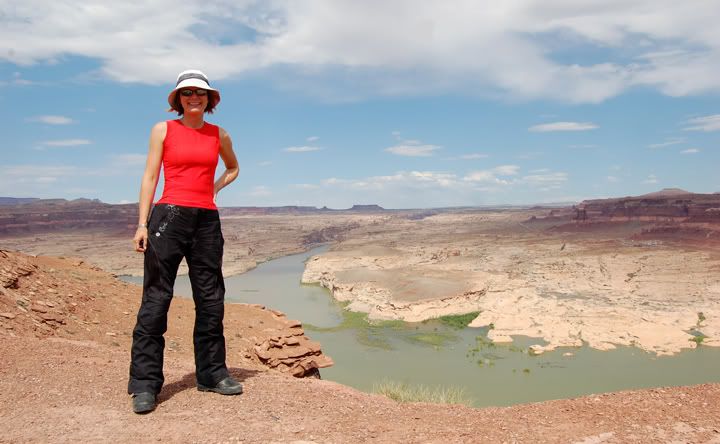 A scenic stop on highway 95 (more highway 95 in the next post)

The original plan was to camp in Torrey tonight which was 48 miles from here but after sitting around and drinking these monster milkshakes we were ready to call it a day after 240 miles. In two more days we were planning on camping here in Hanksville on our way back to Colorado so I had a list of campgrounds in town. We decided to check out one of them. Red Rock Campground on highway 24 it looked decent enough. It had showers, electric sites, laundry and a restaurant. The place has seen better days, but it wasn't that bad, just a bit run down.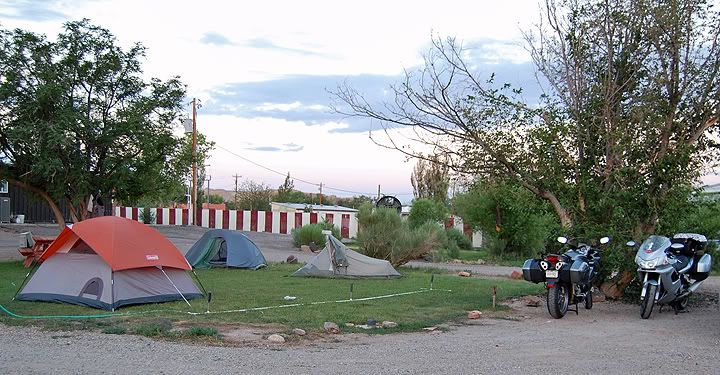 Red Rock Campground in Hanksville, UT
Our 240 miles route today: highways 160, 491, 191 and 95