After a wonderful lunch in Leadville
see previous post
while we were still in town, we decided to ride over to the Leadville Airport for a quick look since it was on the way out of town anyway. The Leadville Airport sits at 9,927 feet in elevation, it's the highest elevation airport in North America. No one was taking off or landing at the airport so we turned back around and continued out of town, heading south on 24 for a bit before turning west on highway 82.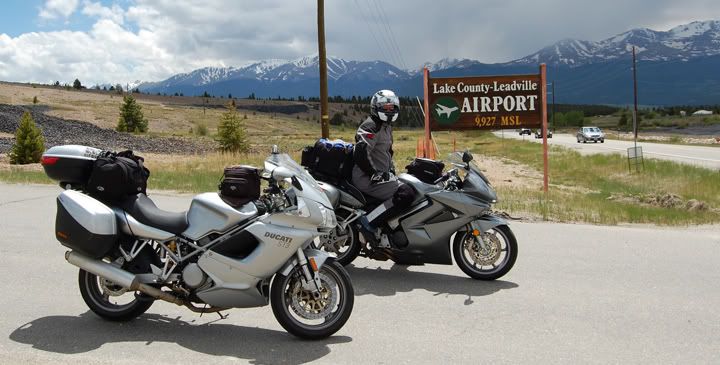 Leadville Airport - highest elevation airport in North America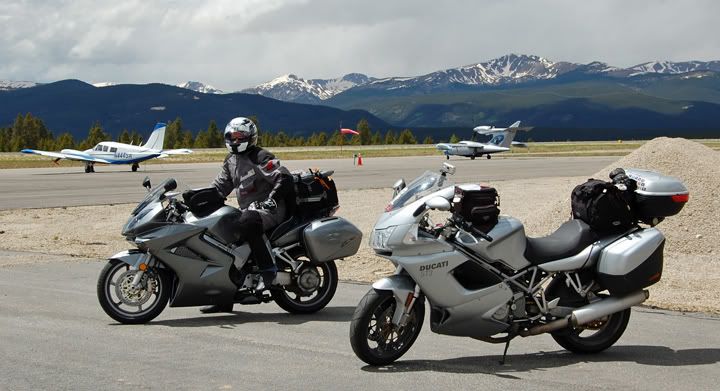 I have only been on highway 82 once before in 2004. It's a very twisty road, there are many steep hairpin curves marked at 10-15 MPH on each side of Independence Pass. There is also quite a bit of traffic on this road, especially on the weekends, since it goes through the town of Aspen.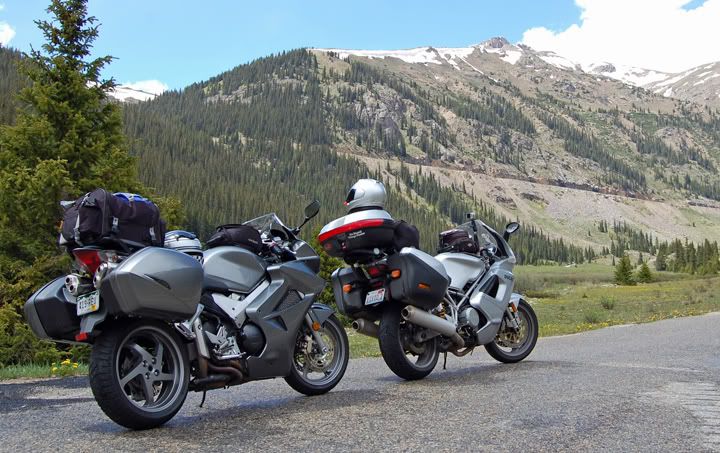 On highway 82 east of Independence Pass
Highway 82 climbing to Independence Pass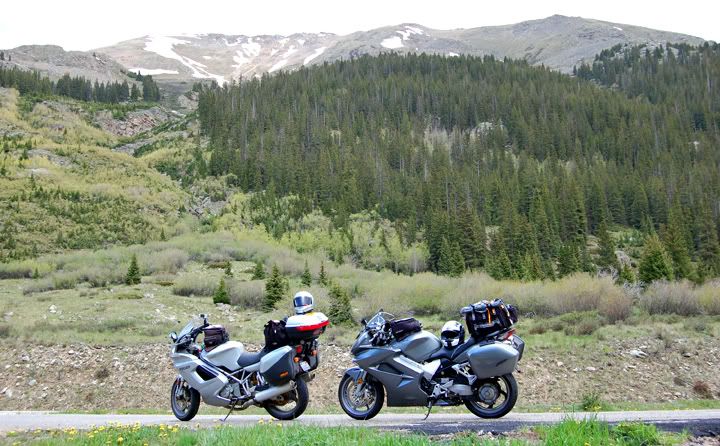 I have to say that Independence Pass is one of the more impressive passes in Colorado as the scenery goes since it sits at 12,095 feet in elevation, way above the tree line. Something about looking over the tundra and snow covered peaks in the middle of summer, just makes you feel like you're really on top of the world.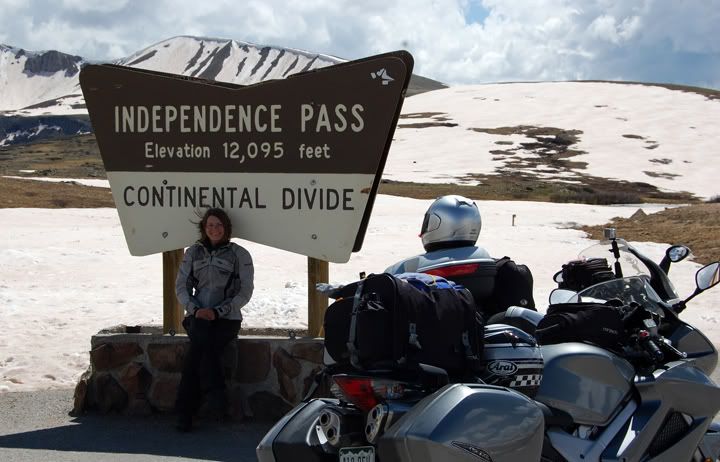 Still a bunch of snow up here at Independence Pass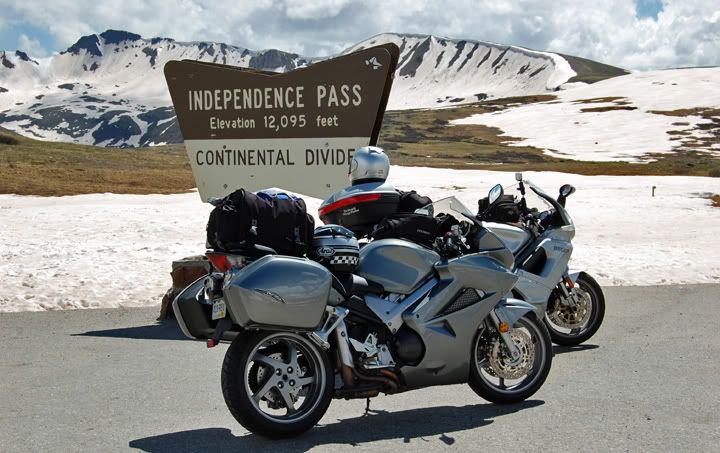 The bikes posing in front of the Independence Pass sign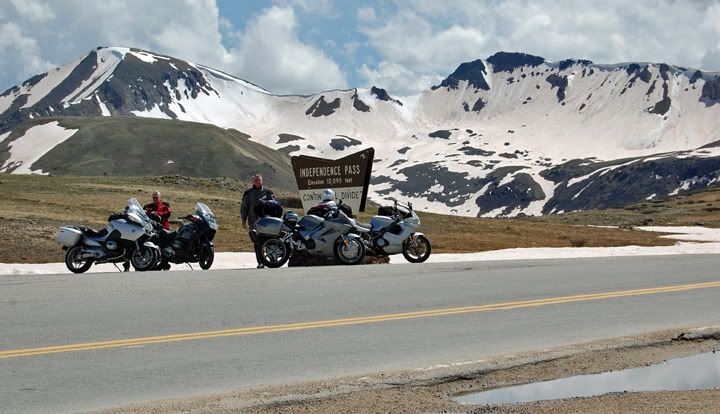 We got lucky, we got the best parking spot by the sign - by the time we left there were about 15-20 motorcycles parked in front of the Independence Pass sign
There are only a few other paved roads that will get you and your motorcycle higher than Independence Pass in the state of Colorado. One of them is Highway 5 which climbs up to 14,160 feet in elevation as it winds up the side of Mount Evans, one of Colorado's 14ers. This is toll road and the highest paved road in the US. It also a very, very steep road, although I have not been on it yet. The other very popular road is the
Trail Ridge Road
which runs through Rocky Mountain National Park, and is also called US 34, which tops out at 12,183 feet in elevation. It holds the title of the highest continuous paved road in the US. Another one of my favorite high Colorado paved mountain passes is
Cottonwood Pass
which is only paved on the east side, and unpaved on the west side. Highway 306 travels from Buena Vista to Cottonwood Pass which sits at 12,126 feet in elevation. I'm not listing the road for
Pikes Peak
which climbs to 14,115 feet in elevation because it's not paved all the way to the top.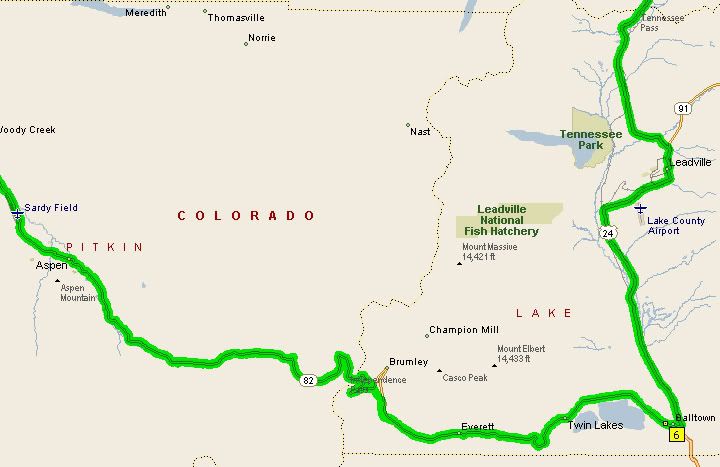 Independence Pass and highway 82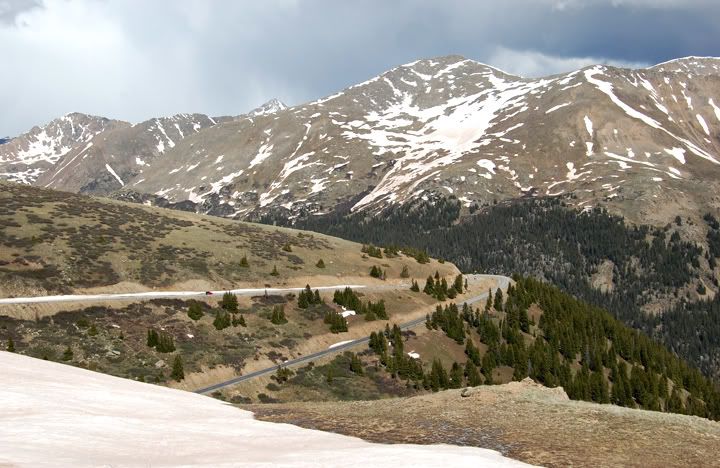 Looking down at one of the curves just below Independence Pass on highway 82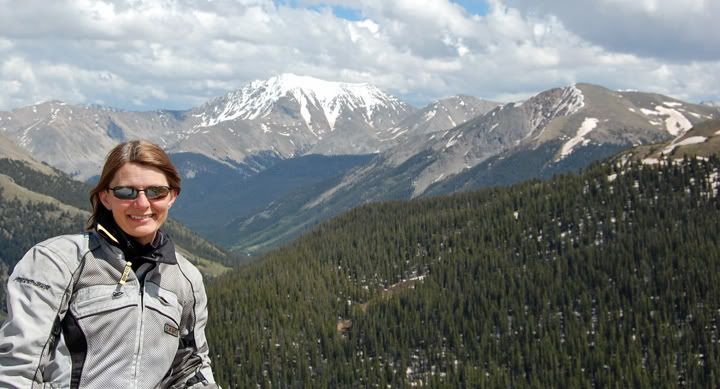 Scenic overlook at Independence Pass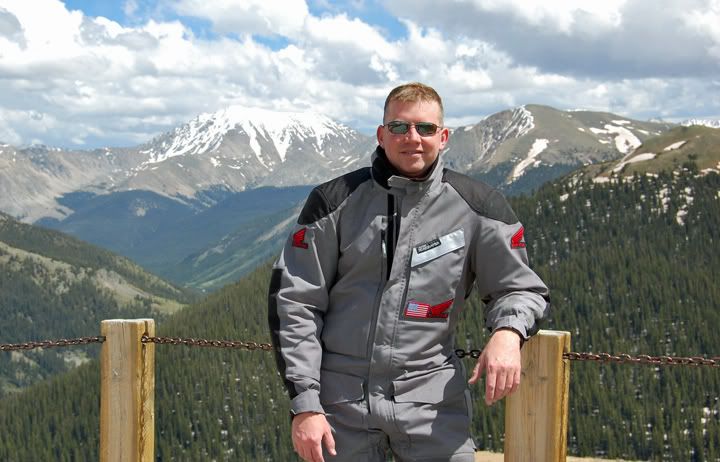 As we continued west on highway 82, there were some dark clouds gathering over the mountains and up here at this high elevation rain could easily mean snow. But as we climbed the narrow road through the many switchbacks and arrived at Independence Pass, it was sunny here but windy. After some pictures we continued down the steep and very narrow road to Aspen. At one point the roads gets so narrow that two large vehicles would have to take turns passing each other. The road is also very beat up on the west side of the pass.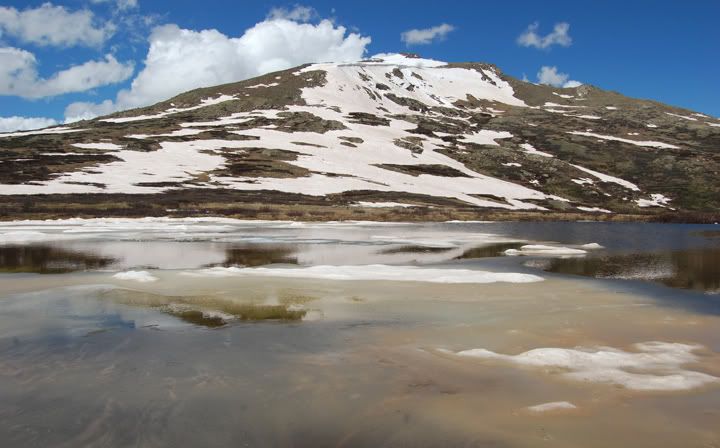 There is some amazing scenery at Independence Pass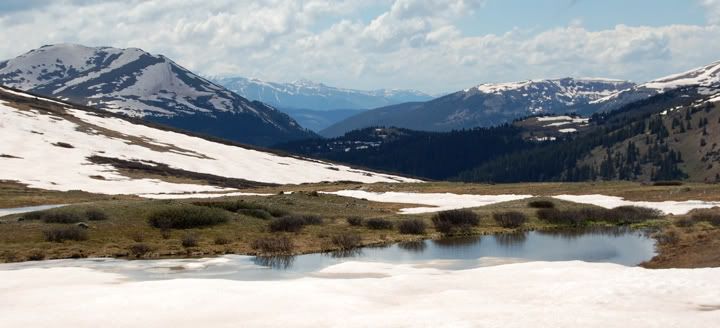 Once in Aspen highway 82 turns in to a two lane highway in each direction. It was the afternoon now and my focus was to get us to Crawford State Park before it got late. The original plan was to camp at Crawford State Park tonight. Funny I was just camping there two nights ago, which was not a scheduled stop.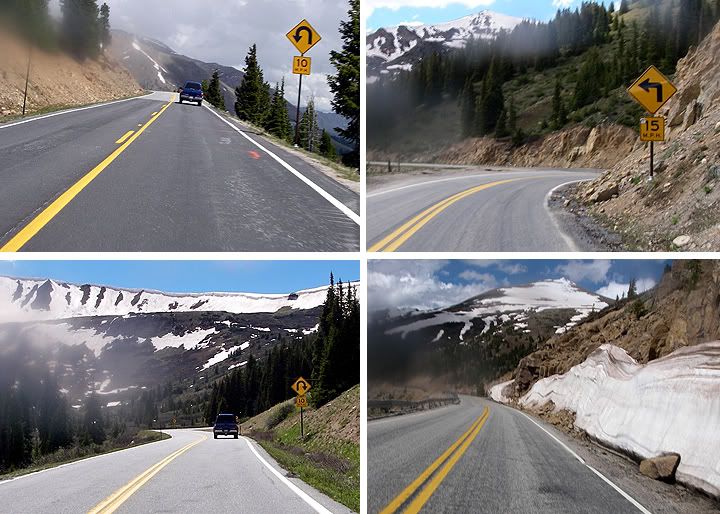 Lots of 10 & 15MPH curves on highway 82
The above pictures were shot from my the camera that is mounted to my bike

We turned off on highway 133 and continued west. The traffic was light here on this beautiful Sunday afternoon and the curves flowed very nicely heading west. We climbed through McClure Pass at 8,755 feet in elevation, which to date I have not stopped at yet, and continued toward Paonia. Once we got west of the pass highway 133 starts to resemble a chicane. The road twists and turns as it hugs the cliff side of the Paonia Reservoir. The posted speed is low here in the 30's but it's very hard to ride this section slow, the curves are just perfect for leaning a motorcycle in to. Further west the curves become medium type sweepers, which also beg to be ridden fast.
There was hardly any one on this curvy section of the road, we had to all to ourselves. We gassed up before continuing to Crawford State Park. The last time we pulled over was in Aspen to take some layers off, we were beat. Because of the detour that we took early on in the day we ended up riding more miles than originally planned. Today ended up being a 320 mile day. We were looking forward to getting off the bikes. Unlike Friday night, today the
Crawford State Park
was pretty empty. We could have taken any campsite but we ended up camping in the same tent only site that I stayed at two days ago. This site was a great camping site and far away from the other few people camping in the park.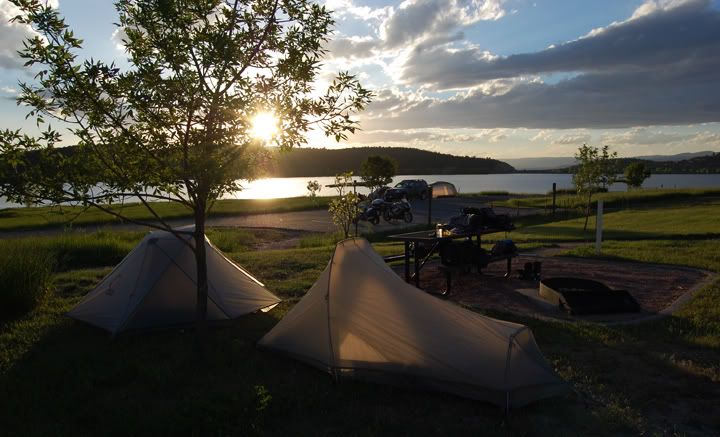 Our tents set up at Crawford State Park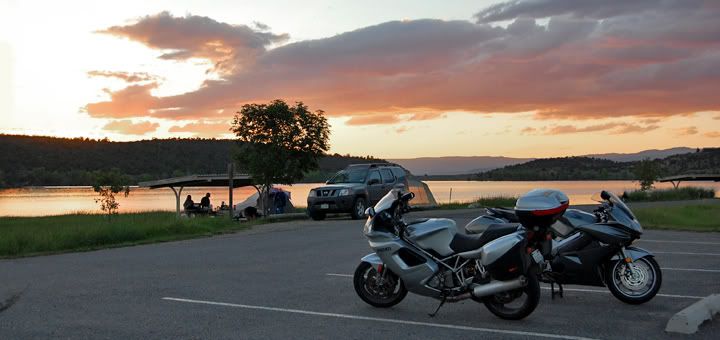 A pink sunset at the park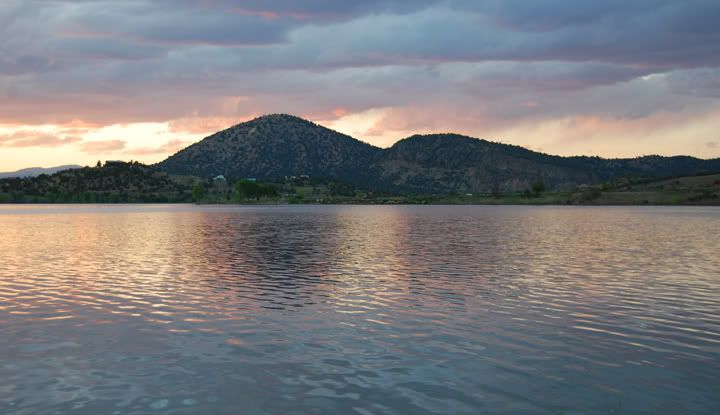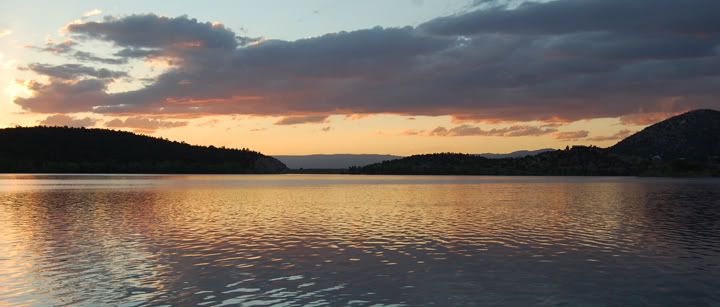 Nice sunset colors add to the already beautiful scenery at Crawford State Park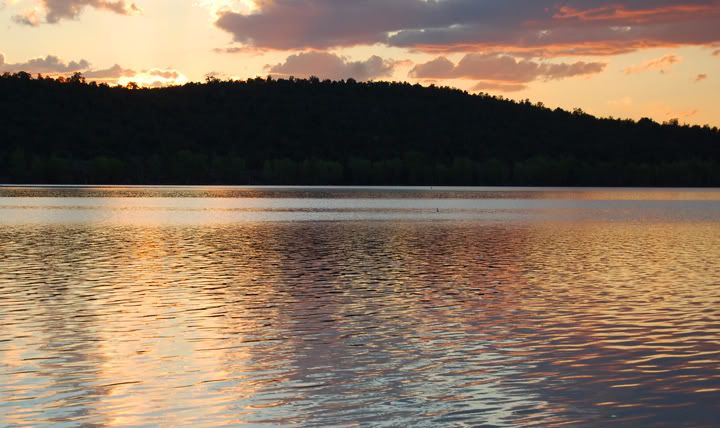 The night came quick, I scrounged for some fire wood that was still left in the other fire rings, but the fire we made only lasted about 30 minutes. We sat around for a few more minutes enjoying the night sky, which is very impressive here with lots of starts, then headed to bed.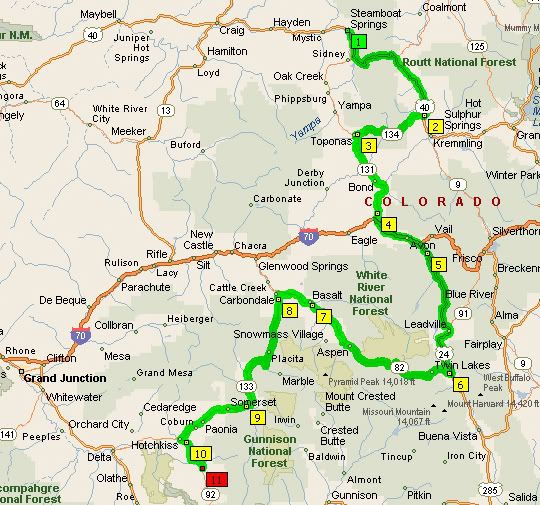 Our 320 mile route: Highways 40, 134, 133, I-70, 24, 82, 133 and 92