The ST.N motorcycle meet was officially over this morning. In the early morning people started to head out. Sandy and I had a planned route for today. Scott was supposed to be heading to Texas but when he heard about some of the roads we were planning on riding, he decided to tag along with us.

Highway 50 west of Gunnison near the Blue Mesa Reservoir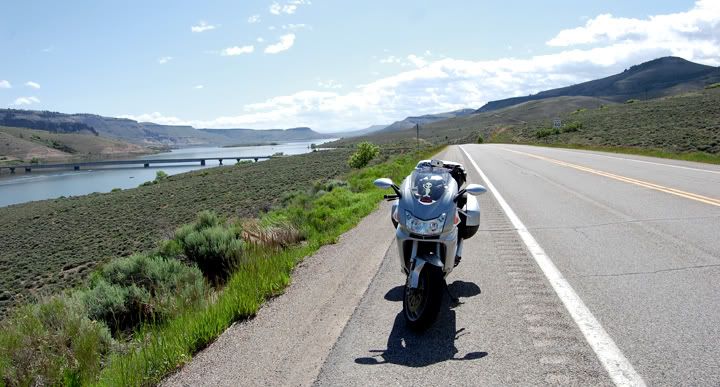 Highway 50 looking east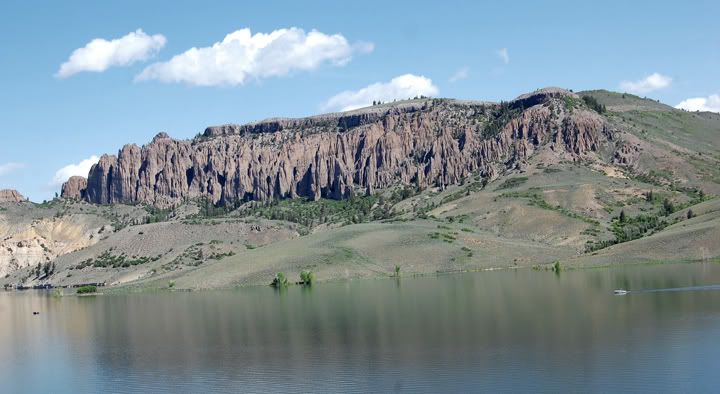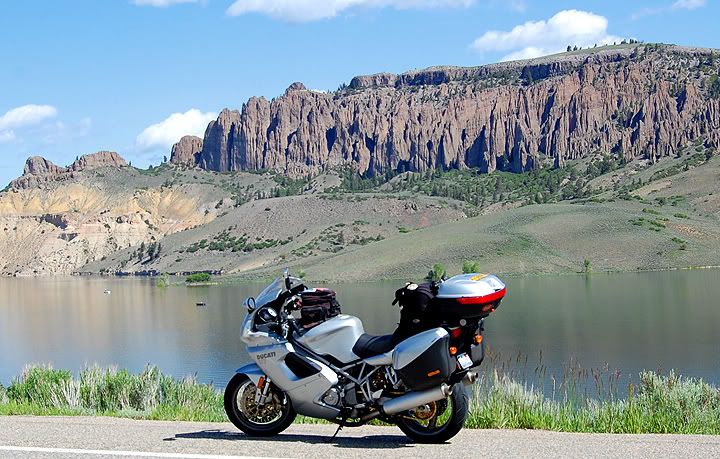 After grabbing a quick breakfast in Gunnison we headed west on highway 50. It was a beautiful morning. In Montrose we turned south on highway 550. By the time we got to Ridgeway and the junction of 62 and 550 we were ready for a break.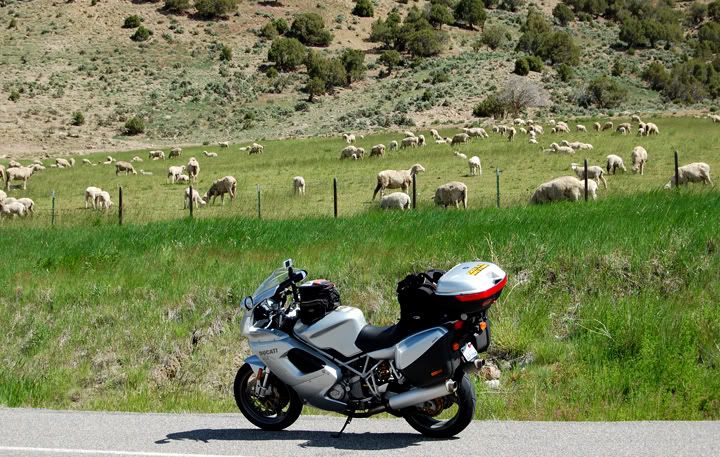 Sheep along highway 50 near Montrose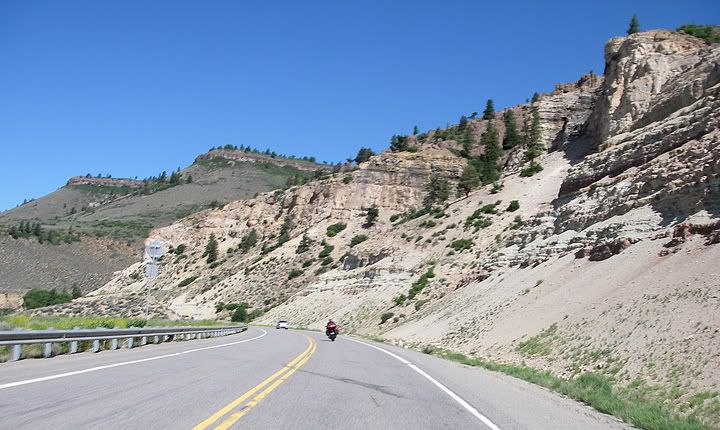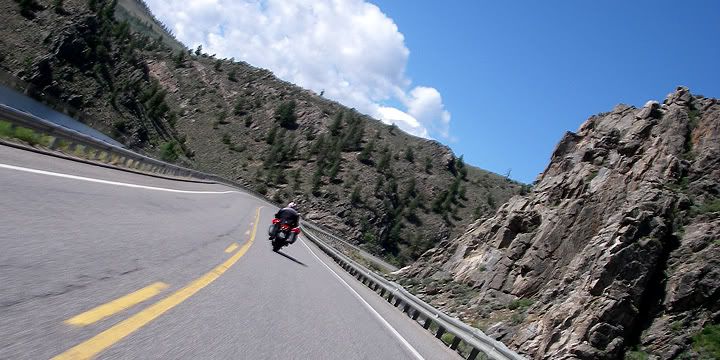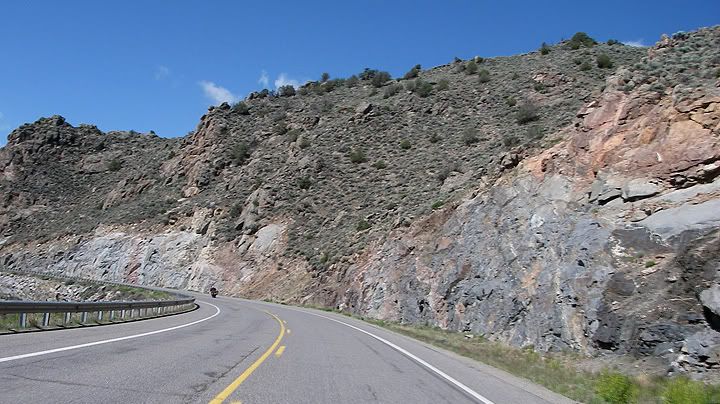 Highway 50 is a pretty nice ride

We turned on 62 and headed west. 62 runs along a river and the curves of the road mimic the flowing waters near by. The pavement twists to the left then the right, left then right, this continues for many miles. I just love the sweepers on this road, they flow really well and can be ridden pretty fast. But today there was so much traffic on this road that we couldn't enjoy the curves the way we wanted to. Colorado has some great roads, but unfortunately there isn't many of them, so on certain days and at certain times they do get pretty busy.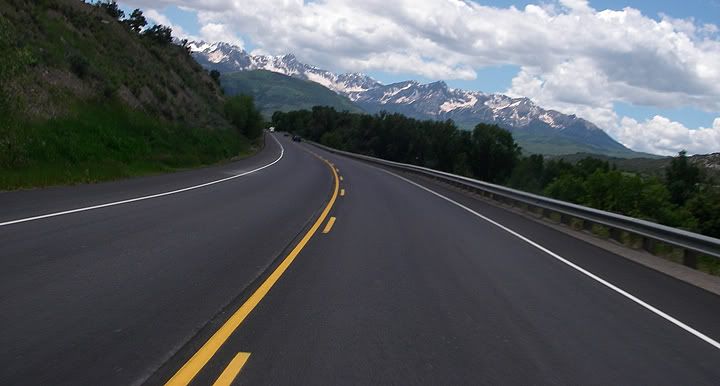 New pavement on highway 550 south of Montrose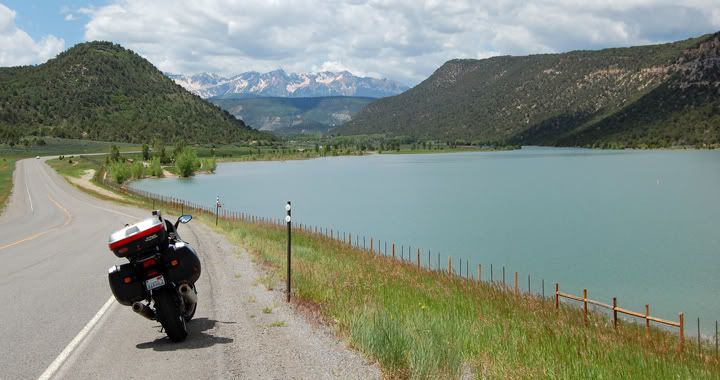 Highway 550 just north of Ridgeway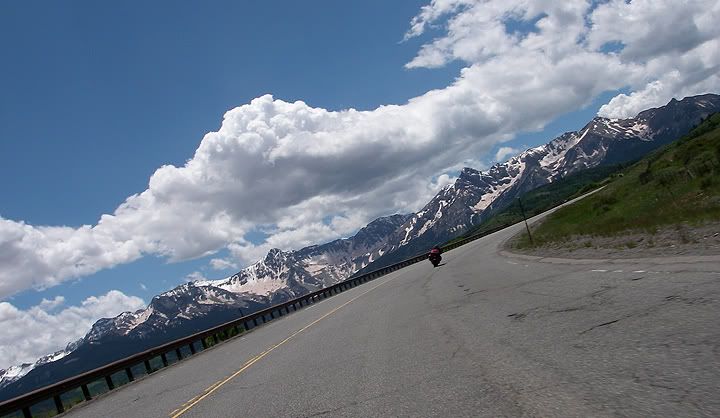 Once we turned west on 145 there was significantly less traffic. By the time Sandy and I arrived at the junction of 141 and 145, Scott was no where to be found. Unfortunately we were in the middle of nowhere and our cell phones didn't work so we continued west on 141 and stopped in the town of Naturita where we again had a cell phone signal.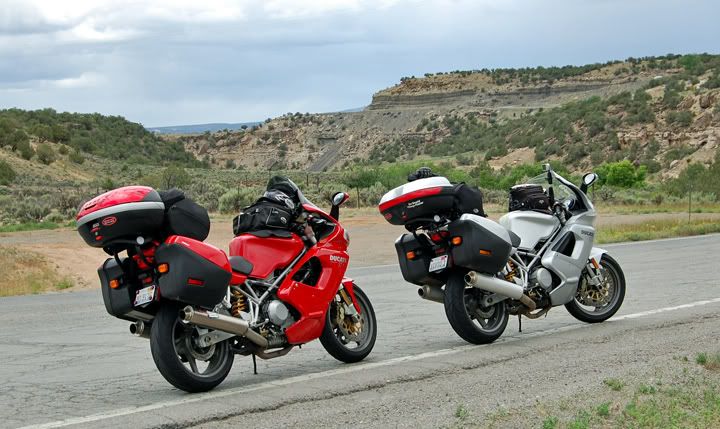 At the junction of highways 145 & 141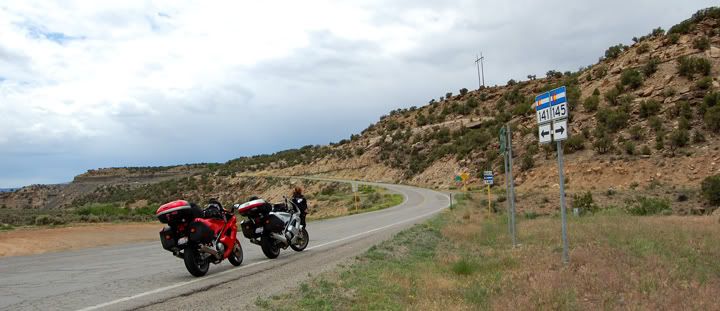 Scott had left a message for Sandy saying that he had a puncture in his tire. He was definitely having some bad luck on this trip, first his chain and now his tire. By the time Sandy got in touch with him, he was already getting the tire plugged up but told us to keep going without him.

While taking a break in Naturita we were watching the dark clouds building in the west and the wind picking up. There was definitely a storm brewing up ahead and we were going to be riding right in to it. The temps were dropping as well, so we got our rain suits on and continued west on 141, my favorite road in Colorado!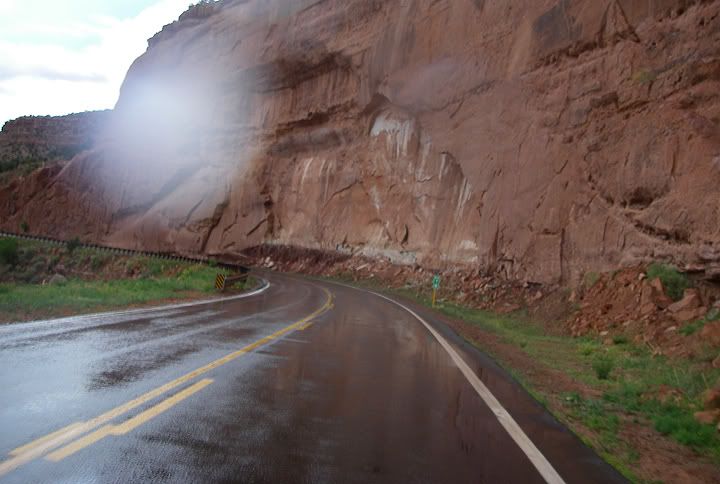 Rain on highway 141
We got to enjoy a bit of dry pavement on 141, but then the rain came. There is hardly any traffic on this road, so the rain only slowed us down a bit. Rain or shine, this road rocks!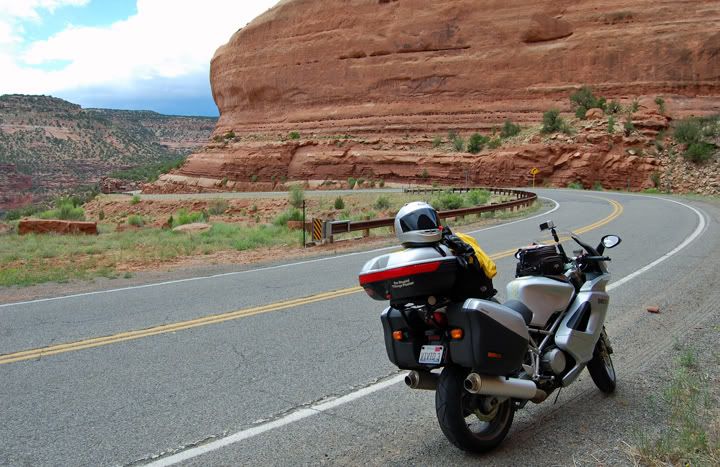 Some amazing scenery and orange rocks along highway 141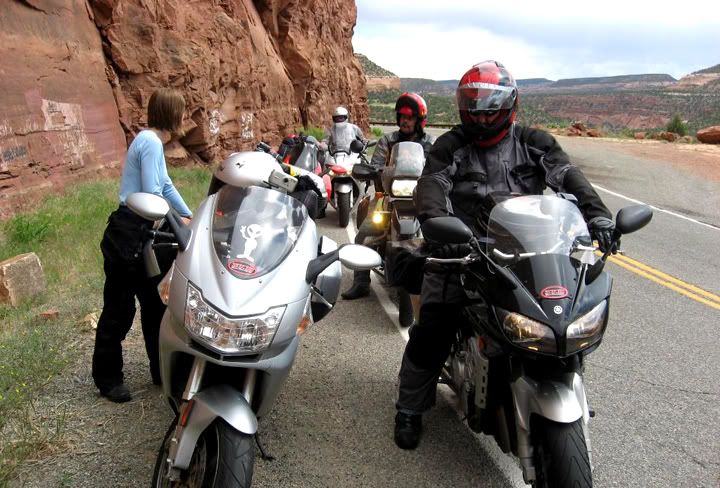 Running in to some of the guys from the ST.N meet on highway 141
The guys posing for some action pics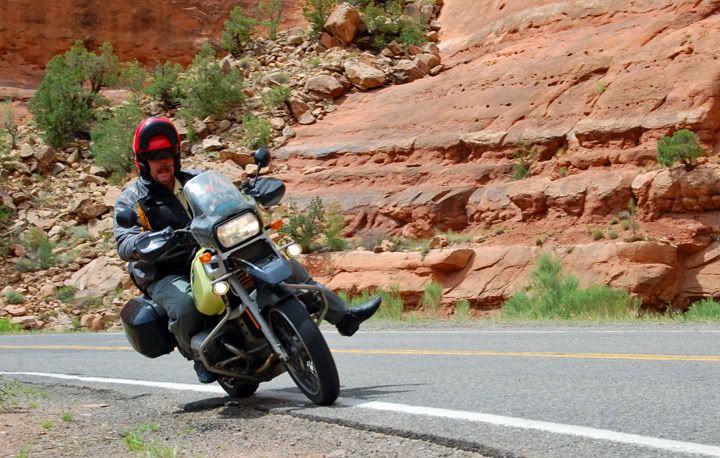 And acting silly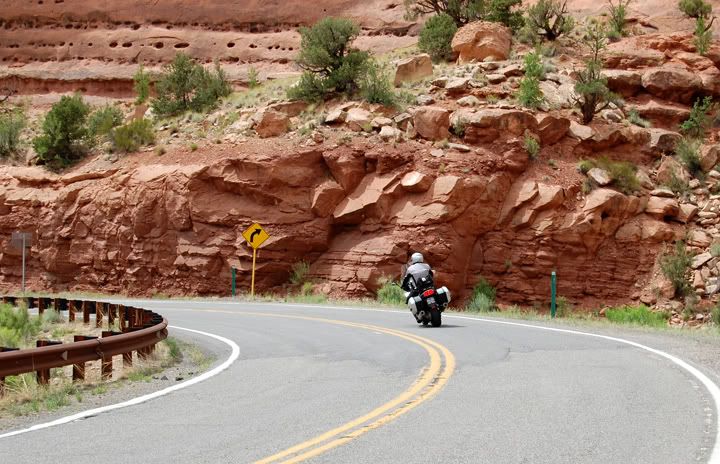 The rain stopped for a bit further down and we got to enjoy 141 to the fullest and the sweet curves that run along the Dolores River. The scenery is amazing here, the orange and red rocks make you think you are in Utah not Colorado, after all Utah is not that far away.

We even ran in to some of the ST.N folks who were at the motorcycle meet this week. How great is 141? Quoting the guys we ran in to on this road: "This road is so good, it's worth a trip from California" and we all know California has some amazing motorcycle roads.

After a long stop for pictures and chatting with the guys, Sandy and I continued toward Grand Junction on 141. The plan was to camp tonight just east of Grand Junction. After spending the last two nights in a motel we were really forward to camping. But before we finished riding 141 the rain came again, much harder then before. In Grand Junction we pulled over at a gas station in the middle of a downpour to figure out our next move. We were told it had been raining here all day, the main road through town was flooded and the rain was supposed to continue. The state park we were going to be camping at was along the river, so besides the rain there might be some flooding also, not something we wanted to deal with.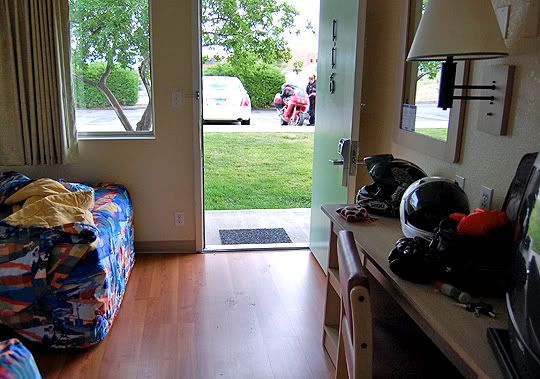 Rained out at Motel 6 in Grand Junction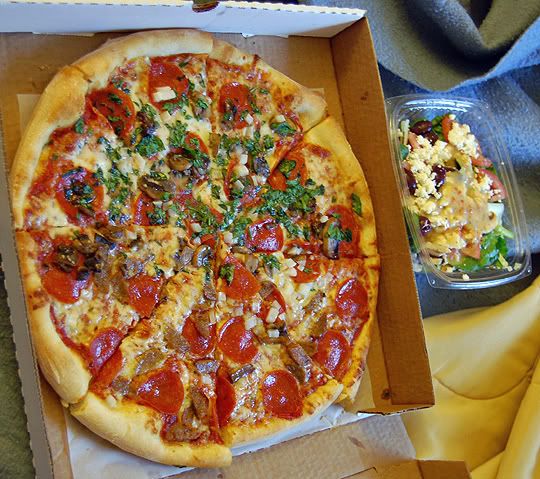 Enzo's Pizza delivered to our motel room - yum!

After stopping at a Best Western and finding out how much they wanted for a room, we jumped on I-70 heading west (out of the way) and grabbed a room at the Motel 6 near the airport. With the extra money we saved on this cheap room, we treated ourselves to a delicious pizza. There was no restaurants near the Motel 6 and since we were sopping wet we didn't feel like jumping back on the bikes and riding in the rain to get food. We decided to crack open the phone and ordered a pizza and salad from Enzo's Pizzeria & Italian Café. They delivered and it was really good.

We got a call from Scott. He ended up getting his tire plugged, but the tire wasn't holding air so he headed to Montrose where he was hoping to get a new tire from a dealership. The dealership was closing when he got there so he would have to wait until tomorrow, but he couldn't find a cheap room in town. In the rain he rode up to Grand Junction and crashed on our floor. I had a mini air compressor with me, so if his tire was flat in the morning, we could at least get some air in to it.

Our 260 mile route today: Highways 50, 550, 62, 145 and 141