Red Rock Campground in Hanksville, UT is nothing to rave about but at least they have a restaurant and this morning we were going to have a real breakfast for a change. The food turned out to be pretty good. After breakfast we hit the road heading west on highway 24. Even though highway 95 is my favorite road in Utah, highways 24 and 12 which we were going to ride today, are my second favorite. 24 is full of great scenery and super fun sweepers and 12 has scenery as well, plus elevation and tight and steep curves.
Sunrise at Red Rock Campground in Hanksville, UT
Breakfast at Red Rock Restaurant next to the Red Rock Campground in Hanksville, UT

Shortly after we left Hanksville I realized that highway 24 had something which I didn't recall seeing the last time I was here in 2006. Tar snakes! Yep, those nasty, slimy lines of tar that can turn a great motorcycle road in to a so-so motorcycle road.
Dalton took this picture and the one below it with his camera, both on Highway 24, both very different types of scenery
Once we turned on to highway 12 there were even more tar snakes. Some of the tightest corners were covered in them and my rear tire lost a bit of traction a few times. Not fun.
A stop for water on highway 24, it was mid morning and already hot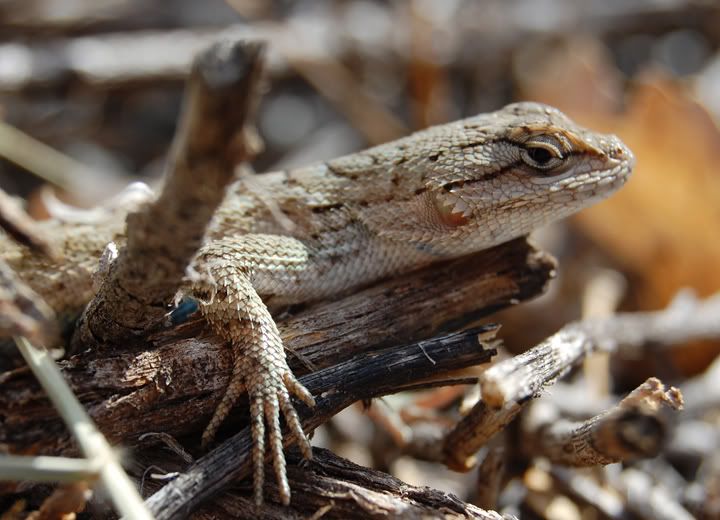 This little guy was cool enough to pose for me
Some very cool looking rocks along highway 24
A neat little stream off highway 24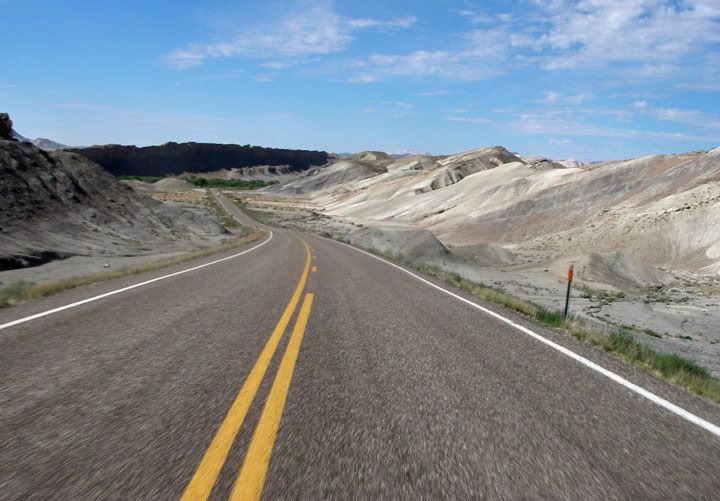 Highway 24 west of Hanksville, UT
Near Torrey, UT highway 24 becomes more colorful - we ended up following a bunch of motorcycles for a while through the end of highway 24 and the beginning of highway 12
More highway 24 west of Hanksville
More highway 24 east of Torrey

Today was a hot one, so as much as I would have wanted to stop more for pictures, it just wasn't possible in this heat. Plus we took a really long break for gas and ice cream. We also wanted to get to Bryce Canyon National Park early to see as much of it as we could since neither of us have been there before.
A stop on Highway 12 - More pics later, this road deserves a post of its own

We arrived at Bryce Canyon in the early afternoon, grabbed a campsite at the Sunset campground, got our tents up and headed out to find some food. This park had some major amenities, and lots of business just north of the entrance as well that sold or rented pretty much anything one might require out here. We didn't want to go very far for food so we decided to ride down to the lodge where there was a restaurant. The restaurant was actually very nice and as one would expect, pricey. But we were in need of a good dinner, so we decided to try it. The food was actually really good.
Fish and steak dinners at the Bryce Canyon Lodge in the park

After dinner we rode over to Sunset Point. The intent was to just check out the scenery from the overlook but once we saw what was out here we decided to do a short hike (more on that later).
The view from Sunset Point Overlook at Bryce Canyon National Park
A trail descending in to the canyon

After our amazing hike we headed to the showers, it seems like so many national parks don't have showers, Bryce Canyon did which was a good thing especially in Utah in the summer time. When we arrived at the general store where the showers were located, we found the parking lot empty. The sign on the door said that the showers were only open from 8AM to 8PM. It was just past 8. The sun was getting ready to set so we headed back to our campsite.
Our campsite at the Sunset Campground at Bryce Canyon National Park
The sun setting behind the trees at the Sunset Campground
Our 170 mile route today: Highway 24, 12 and 63