The rain was just moving off this morning. Everything was sopping wet which made packing up camp a very slow process. The sun finally did come out for a bit which helped to dry out the tents. Since it had been raining most of the night but not so much this morning and not that much last evening, we considered ourselves lucky. We've had pretty good weather the last few days. This was my 7th consecutive day camping and touring, which was a record since on other trips the rain had always managed to change a nigh of camping in to moteling.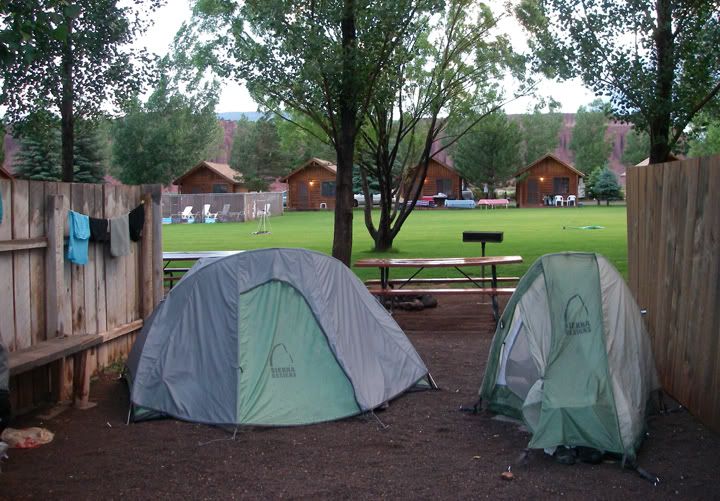 Thousand Lakes Campground in Torrey, UT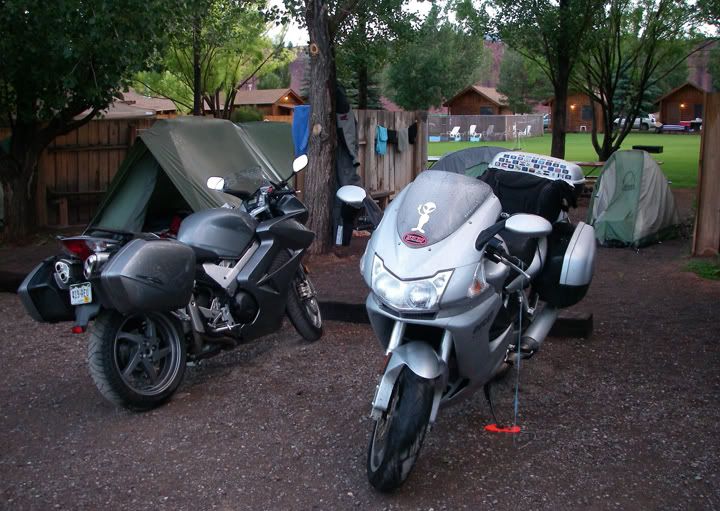 Everything wet this morning from all the rain last night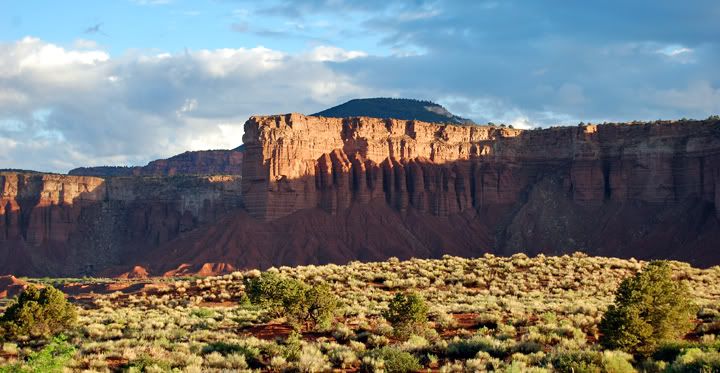 Views from the campground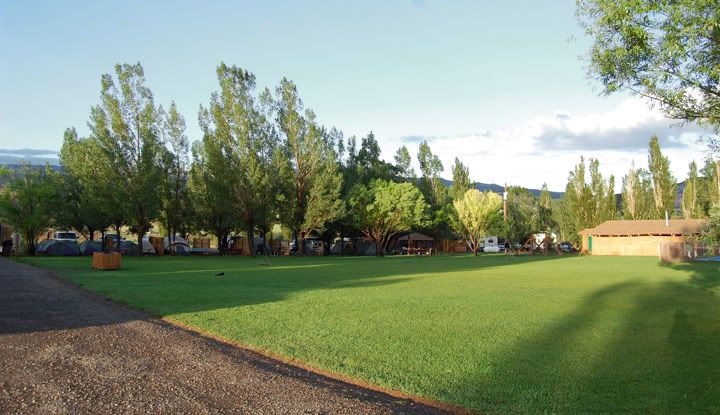 So far we have stayed on the pre-planned route for this trip. The only two things that were changed, was staying in Hanksville a few days ago when the plan had called to stay in Torrey and staying in Torrey last night when the plan had called to stay in Hanksville.

But as we left Torrey we ran in to more rain at Capitol Reef National Park. We rode most of the park in the rain. At the end of the paved road in the park we sat at the covered picnic shelter waiting for the thunder storm to pass. The weather wasn't looking good for today.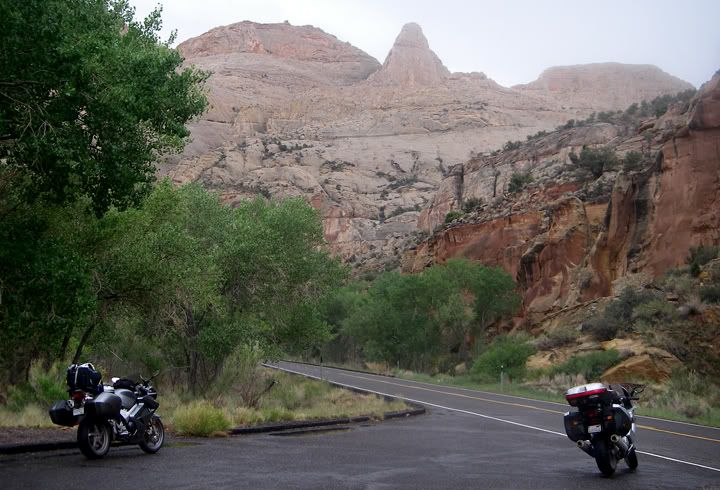 A stop on highway 24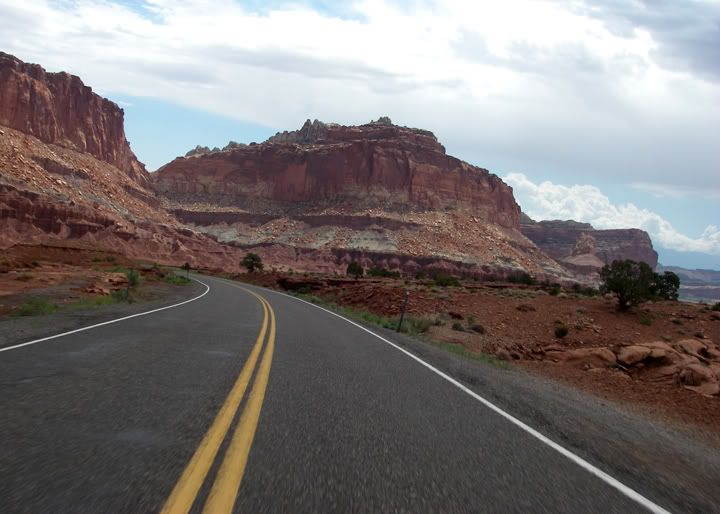 Highway 24
Capitol Reef National Park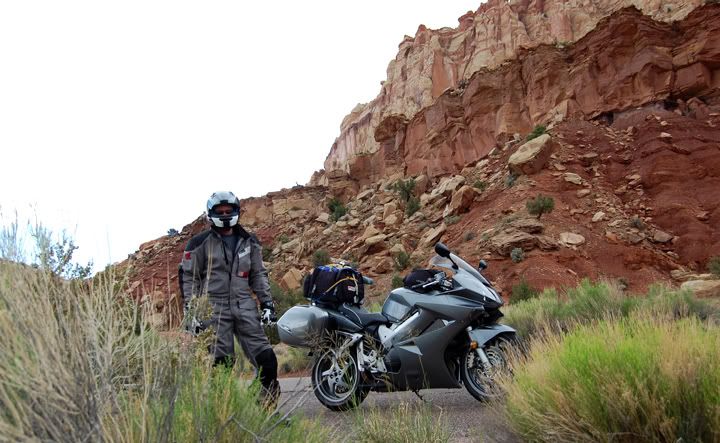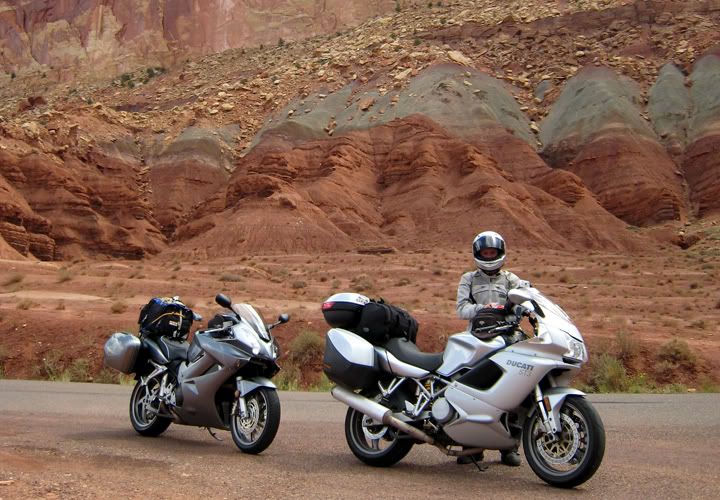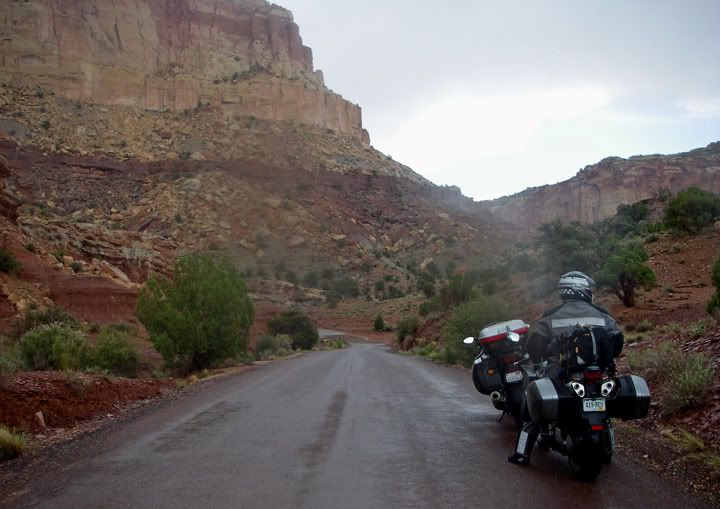 The rain starting to fall at Capital Reef N.P.

We got back to Hanksville and stopped for lunch at Stans Burger Shack. The rain kept coming down hard so we deceived to wait it out at the restaurant and figure out what we were going to do. There really wasn't enough time to ride our original route with the rain delay this morning and at the park and now. The original route had us riding on 95, my favorite road, to 191 then over to 46 in UT which turns to 90 in CO. Then riding 141 and camping in Fruita at the Colorado River State Park. The plan was to also ride through the Colorado National Monument. Out of the whole trip today was longest planned riding day already at 343 miles and since we didn't start out in Hanksville, but 50 miles west in Torrey, at almost 400 miles total, it just wasn't possible with the rain.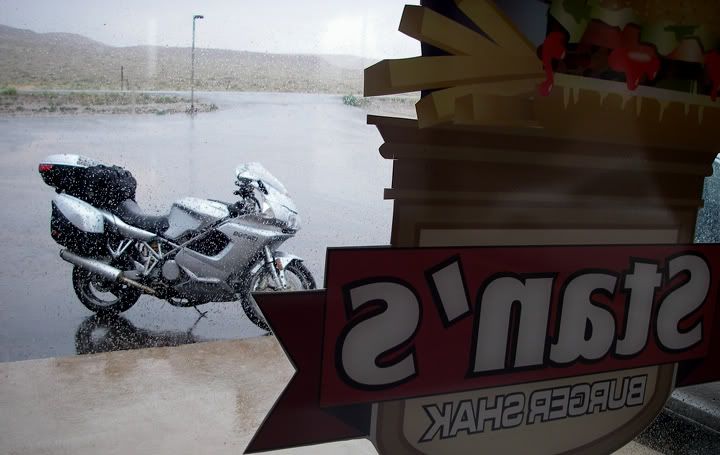 Rained out at Stan's Burger Shack in Hanksville, UT
Lunch at Stan's - those were some yummy burgers
My traveling monkey saturated and heavy with rain

We kept monitoring the weather, which was showing several storms passing through. It was very hard to figure out if we should even attempt to camp tonight. After throwing some ideas out there we decided to just take the quick way and grab a motel room for the night. From Hanksville we took highway 24 to I-70 and grabbed a room at the Comfort Inn in Green River, UT. All we had to do tomorrow is jump on the interstate.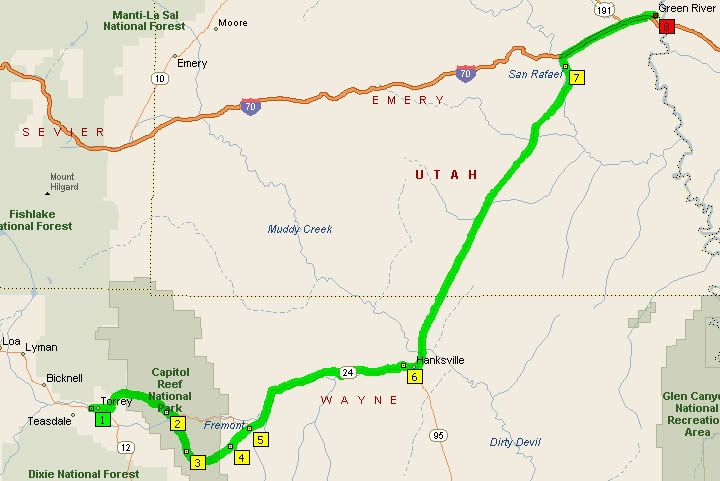 Our 110 mile route today: highway 24, the road through Capital Reef N.P. and I-70