By 8AM we were in the parking lot packing up the bikes. I prefer to camp but the one benefit I enjoy of staying in a motel is the ability to leave early in the morning since there is no camping equipment to pack up. There were only two more days of riding in this trip, today and tomorrow. Because of all the rain yesterday we had some miles to make up today.
We jumped on the interstate and arrived in Grand Junction, CO still in time to grab some breakfast before heading for highway 141. On the way to highway 141 we passed the Colorado National Monument which we were supposed to ride through today, we decided to skip it and save it for another trip when we had more time.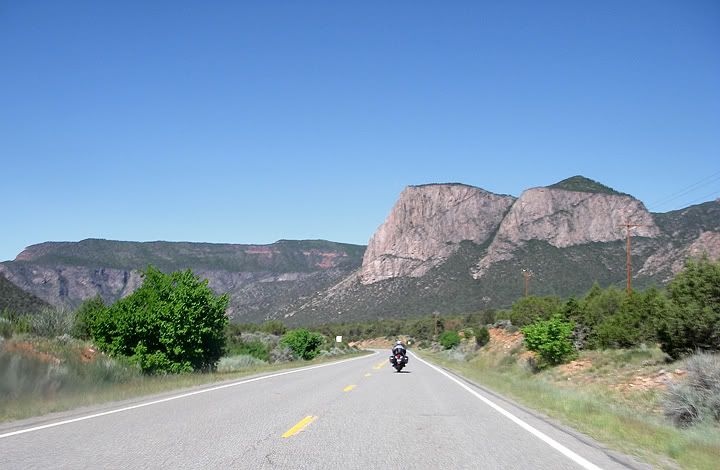 Dalton on highway 141 near Grand Junction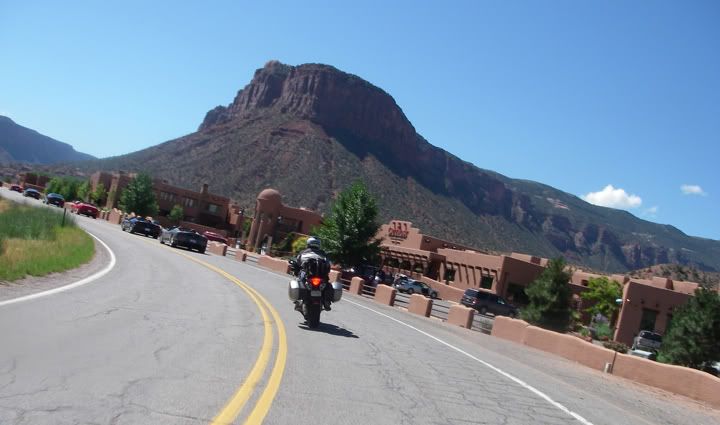 Chasing a bunch of Ferrari's on Highway 141 near the Gateway Resort
Highway 141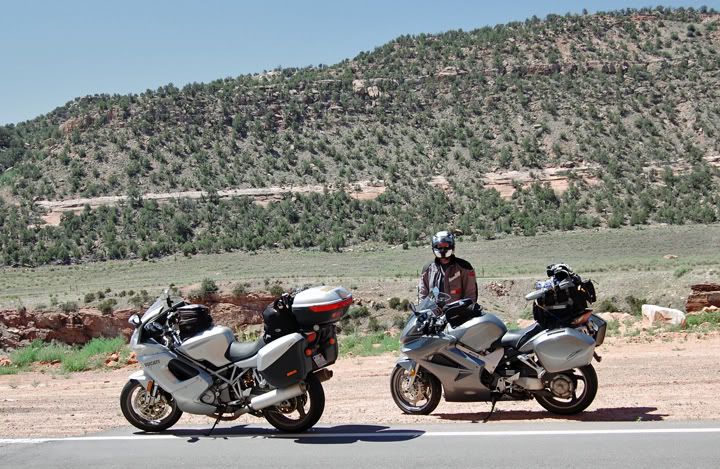 A couple of stops on Highway 141 - this picture and the ones below it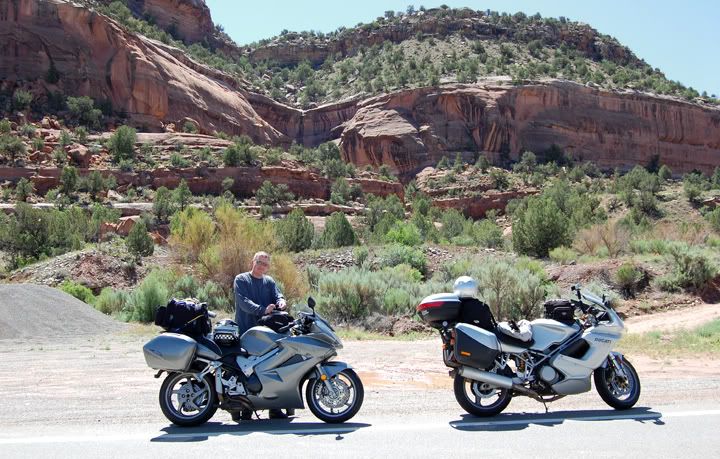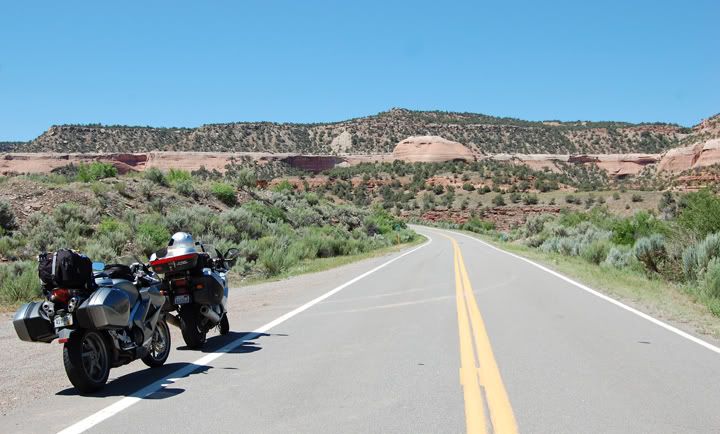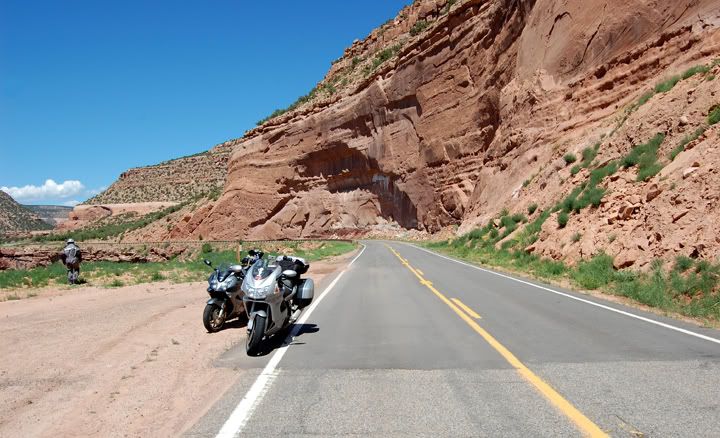 The Dolores River
Dalton took this picture and the one below it on Highway 141 near Grand Junction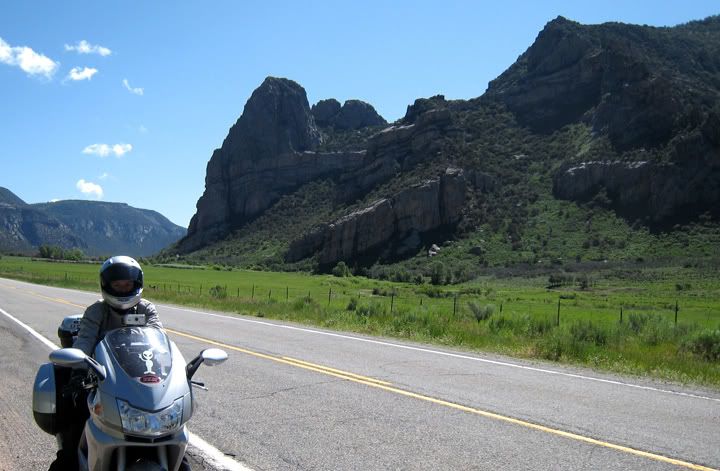 Last week I got to ride
141, my favorite Colorado road
, from south to north. And today I rode it from North to South. The scenery is different in each direction. Traffic was very light on 141 and before we knew it we were turning off on 145. I haven't been on 145 since 2005. I've only ridden it that one time and it was in the rain so it was nice to finally ride it in some good weather.
From 145 we turned east on highway 160. Originally we were supposed to camp tonight at the Navajo State Park but I was so busy trying to make up some miles, I flew right by the road that went to the park. When we stopped to get gas I realized this, we weren't that far past it but we decided that we should keep going, it was still early in the day. The more miles we were going to ride today, the less miles we would have to ride tomorrow.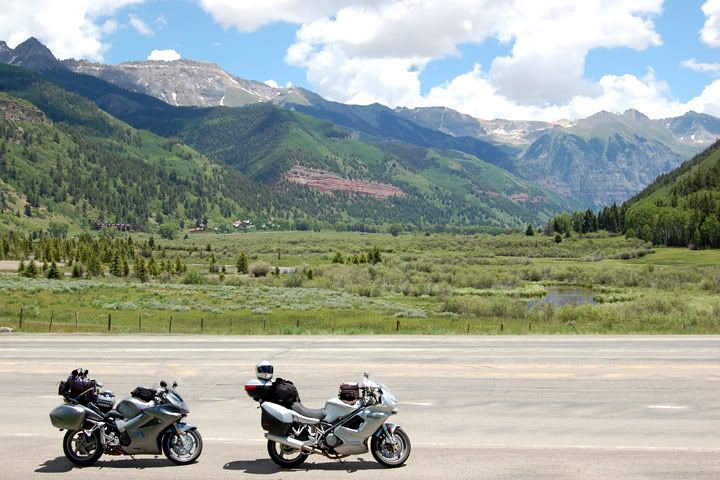 A stop on Highway 145 looking towards Telluride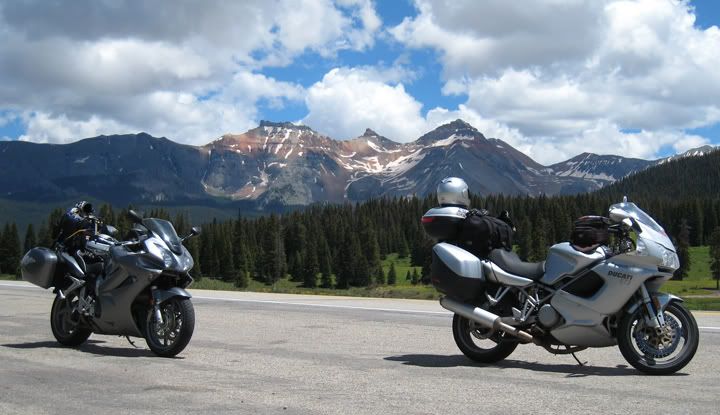 Dalton took this picture at Lizard Head Pass on Highway 145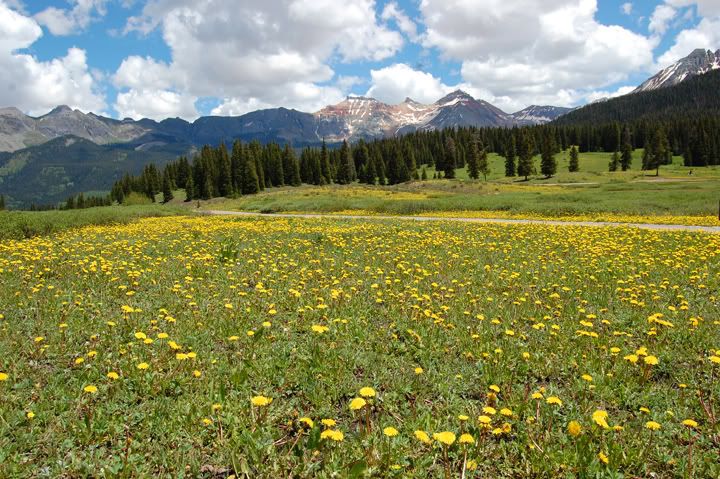 Lizard Head Pass at 10,222 feet in elevation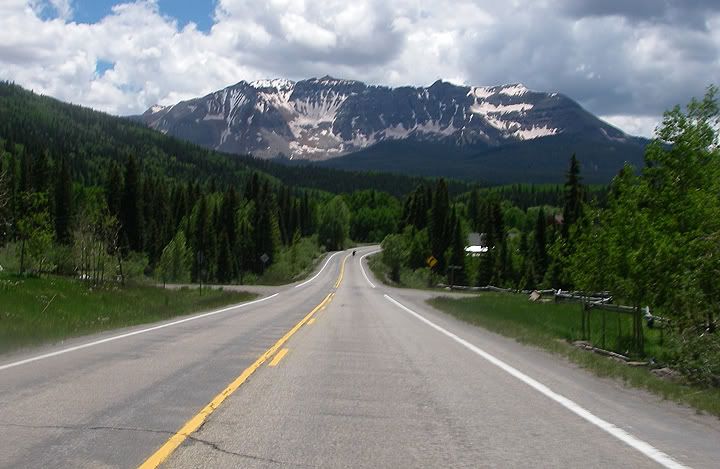 Highway 145, that tiny spec in the distance is Dalton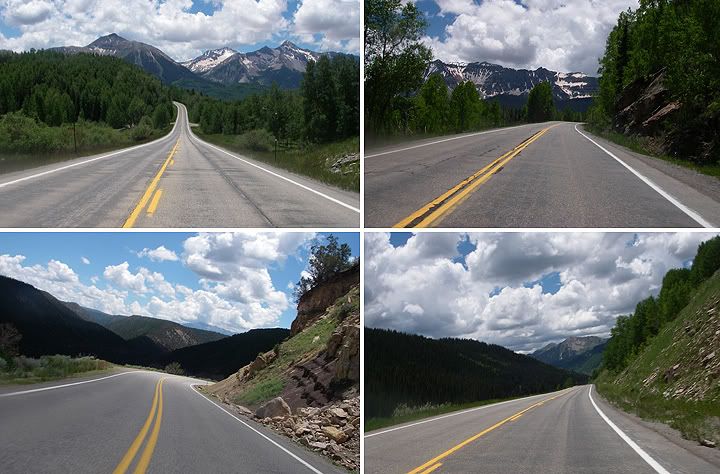 Highway 145
After 425 miles we arrived in Pagosa Springs, CO. We pulled over at the visitor center to ask if there was any campgrounds near by but the visitor center was already closed. There was a motel and RV park across the street from the visitor center so I asked in there about camping. There were no tents allowed at this RV park but I did get a phone number for a campground just outside of town. No one answered the phone at the campground and after so many miles of twisty roads we certainly didn't feel like riding out there to see if there was a tent site open.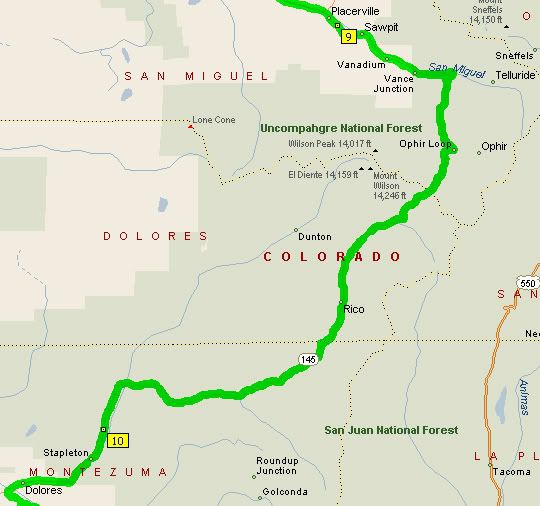 Highway 145

I've ridden through Pagosa Springs in 2005 and had lunch in town but have never stayed in town. Since this was a pretty neat tourist town we decided to get a room in town and have a nice dinner. Tonight was the last night of our trip. Staying in a motel room would allow us to leave early in the morning tomorrow. The motel rooms were pricey in town, especially the ones with hot springs but that's the price you pay when you want to be in the middle of it all.
Our 425 mile route for today: Highways I-70, 340, 50, 141, 145, 184 and 160