We rode down from the Grand Mesa and turned east on highway 92 and stopped for gas in Hotchkiss. Since we were heading straight to the campsite now, Sandy and I decided to grab some hotdogs and buns. We arrived at the Crawford State Park around 1PM. To our surprise most of the camping sites were already taken. There were a few tent sites still available, so we grabbed one and headed over to the Clear Fork Campground just south of the visitor center.
Crawford State Park is located at 6,600 feet in elevation just south of Crawford, CO in the Elk Mountain Range. The state park sits conveniently on Highway 92, one of the best motorcycling roads in Colorado. $14 per night for tent camping plus $6 day fee, which Sandy had to pay. I bought an annual CO state park pass. And lets not forget the nice showers here, I wish all state parks and national parks had them.
Sandy and I at Crawford State Park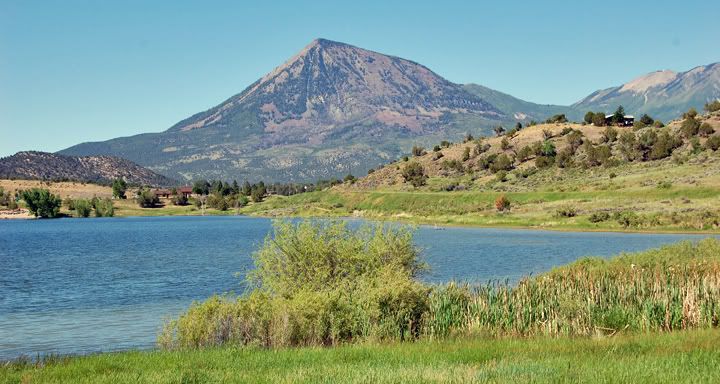 Getting the fire ready to make some lunch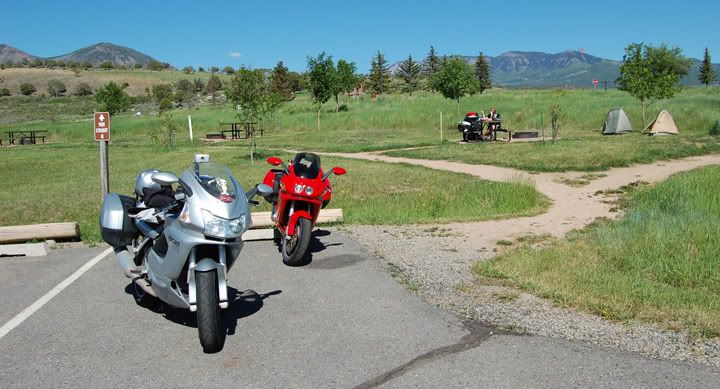 Our tent only site at Clear Fork Campground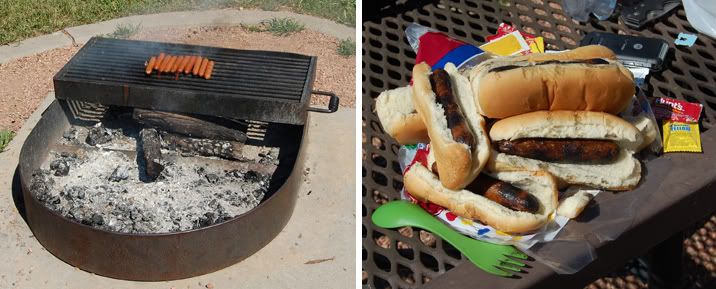 Lunch
After we unpacked and erected our tents, we decided to make the hot dogs for a late lunch with the wood that was still left in our firepit. The plan was to eat, relax then gear up and take a ride highway 92 from here south to highway 50 and back up again. The idea was to ride 92 without all the extra weight of our camping gear since this road is very twisty.

In the early afternoon, after we ate just as the subject of riding 92 came up, Sandy got a phone call from Scott. He got a new tire today and wanted to know where we were camping. He wasn't very far from us and wanted to know if he could swing by and camp with us tonight. An hour and a half later he showed up with some Fat Tire beer and chips, and the plan to ride 92 went out the window. I didn't really care if we rode 92 today or not since I was planning on riding 92 in a couple of days anyway. Sandy was more interested in relaxing then riding, after all, she rode out here from Illinois and has been riding every single days since.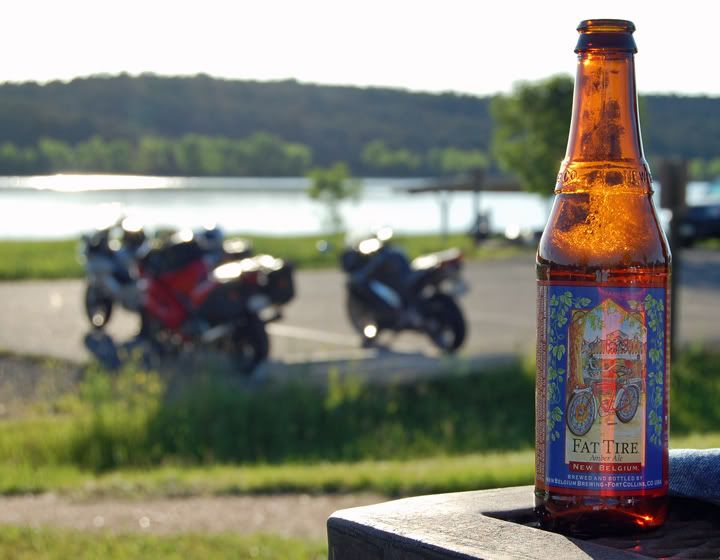 Enjoying some cold Colorado brew by the lake with friends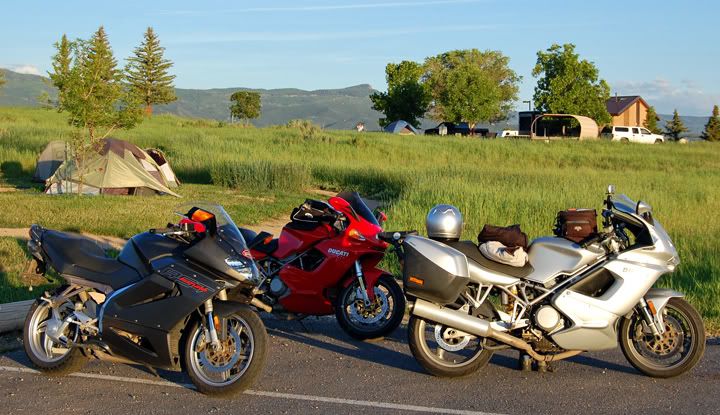 The three Italians parked for the night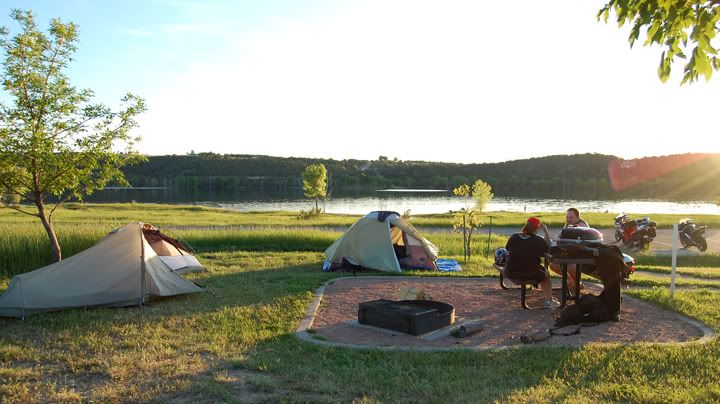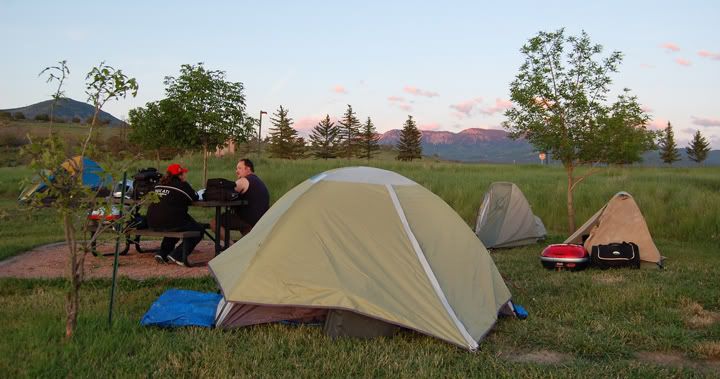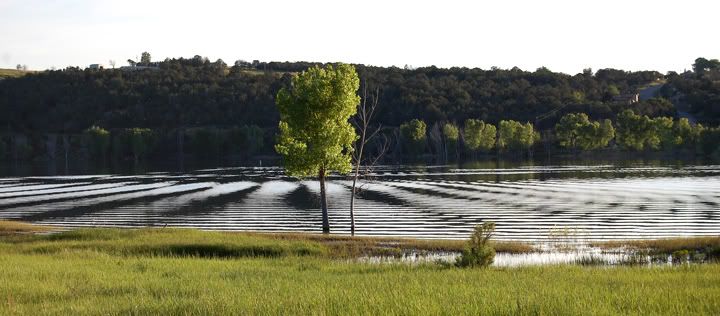 Neat ripples on the water

Originally the plan for today was to make it down to the Great Sand Dunes National Park, but since we didn't get up early enough we knew that we wouldn't be able to get out there, so we decided to stay somewhere closer. This was a good idea since tomorrow we were heading up to Steamboat Springs.

Since we showed up to this state park so early today on a Friday and already most of the sites were full, we were a bit concerned that we might not get a camping spot at Stagecoach State Park south of Steamboat Springs where we had planned to camp tomorrow night. A phone call to the park confirmed what we had already suspected, all the campsites were full. We would have to find another place to camp for tomorrow.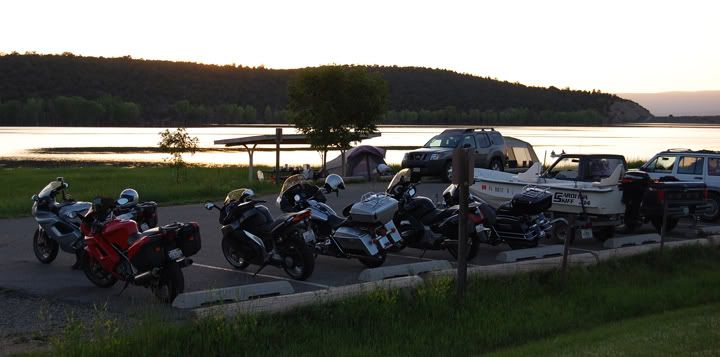 More riders showed up in the late afternoon, they were from Illinois too

It was a beautiful night, the sky was full of stars and the temperatures were very comfortable. I was just excited that we finally got to camp.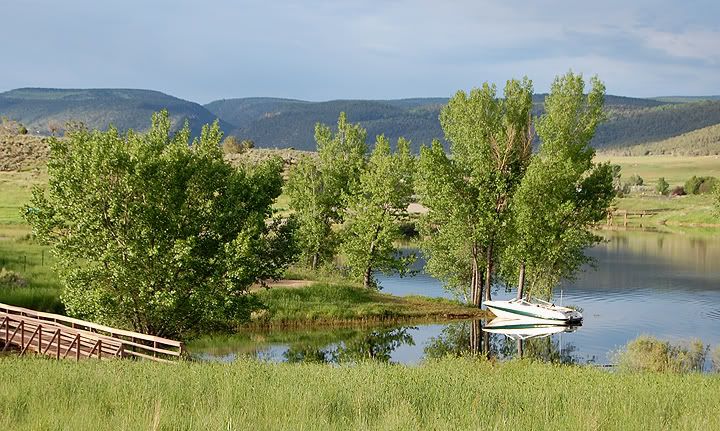 The next morning the boats were out on the water