Dalton and I got up early this morning, packed up and headed out riding south from Crawford State Park. Today we were going to ride two amazing Colorado roads - highways 92 and 550.

Packing up camp at the Crawford State Park

The curves on highway 92 started just after passing the north entrance of the Black Canyon of the Gunnison National Park, which I still need to check out one of these days. I've only been to the south entrance so far. While on highway 92 you can catch some fantastic scenery of the Black Canyon of the Gunnison and the Curacanti National Recreational Area.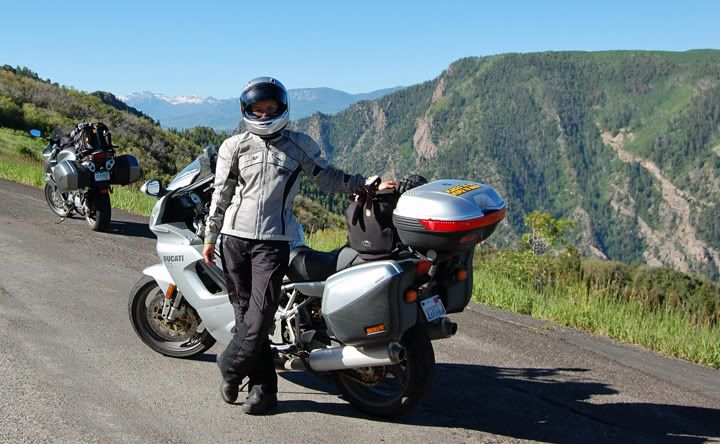 Posing for some pictures on highway 92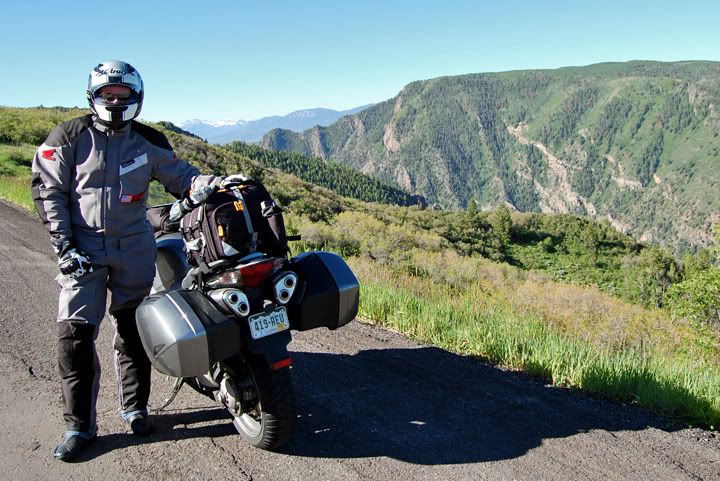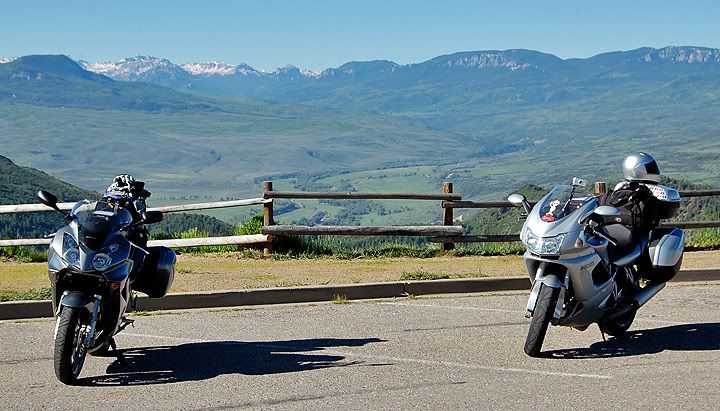 The bikes parked at Hermit's Rest scenic overlook on highway 92
The view from Hermit's Rest scenic overlook, Dalton took this one with his camera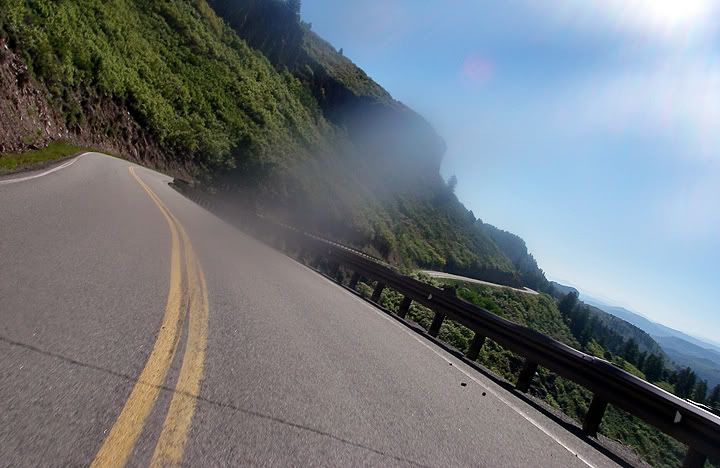 Well, not a lot of pictures while riding highway 92, it's just too technical to ride and work the camera at the same time, this pictures has a big smudge on the lens

Highway 92 is one of the most popular motorcycle roads in Colorado. It has lots of twisty stuff and some technical stuff as well. Plus great scenery and not a lot of traffic. But make sure you have enough gas in your tank to get to where you want to go. There is only one gas station located just south of Crawford, then for at least 65 miles there is no gas available until Gunnison or Cimarron, both on Highway 50.
The very twisty highway 92
Because of the abundance of 25-30MPH curves on this road, it takes a while to get through it. Located somewhere in the middle of all the twisty blacktop, there is scenic pullout called the Hermit's Rest. It's hard to miss it, the parking lot is pretty large and it has a vault toilet. Whenever I'm on this road I always make a pit stop here and so does everyone else that travels this road. There is always at least one other motorcycle in this parking lot as well.
After getting through all the twisties on 92 we turned west on 50 and headed to Montrose. Last year while riding through Montrose I discovered a pretty good burrito joint on highway 550, Don Gilberto Mexican Restaurant, Dalton and I decided to go there since it was lunch time and we were famished. It helps if you speak Spanish, their English is not so good, but the food is great.
After lunch we continued south on highway 550, also known as Million Dollar Highway (
see last year's post)
. This was my third time riding this road and just as before 550 was under construction and packed with slow traffic. The scenery on this road, in my opinion, is the best scenery of any Colorado road. The road itself is amazing also, the curves, some very tight, some large sweepers and some in between, will keep you entertained from Ouray to Durango. Today being a Monday I was a bit disappointed that there was still quite a bit of traffic on this road. We did get a good run for a while and didn't stop much for pictures until the big scenic pullout for Molas Pass, which I always stop at because the scenery is amazing here and there is a pit toilet.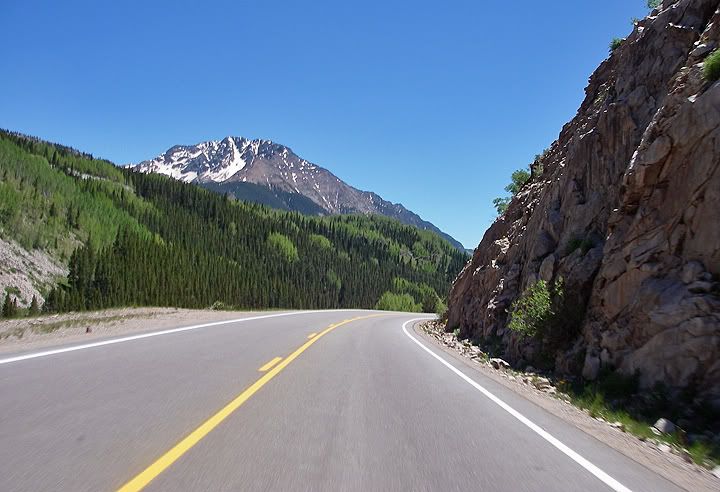 There is some great twisty pavement and lots of beautiful scenery on highway 550 between Ouray and Durango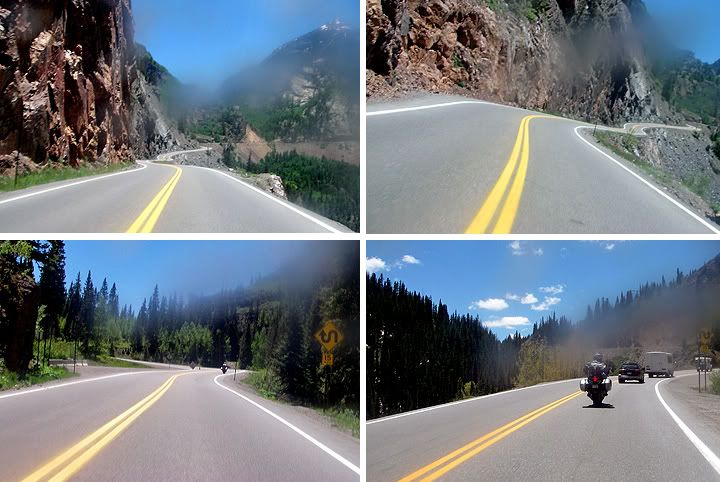 More smudges on the camera lens, but you can still see how great this road is with many 10-15MPH curves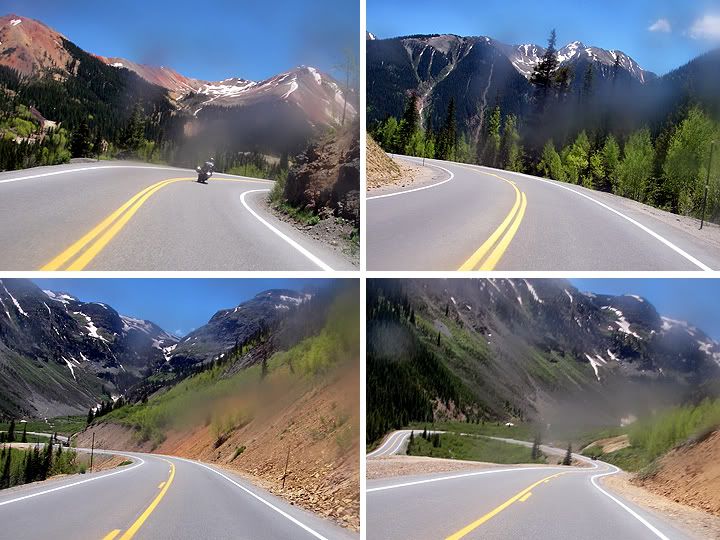 Between Ouray and Durango there are three Mountain passes on highway 550 - Coal Bank Pass at 10,640 feet, Molas Pass at 10,970 feet and Red Mountain Pass at 11,018 feet in elevation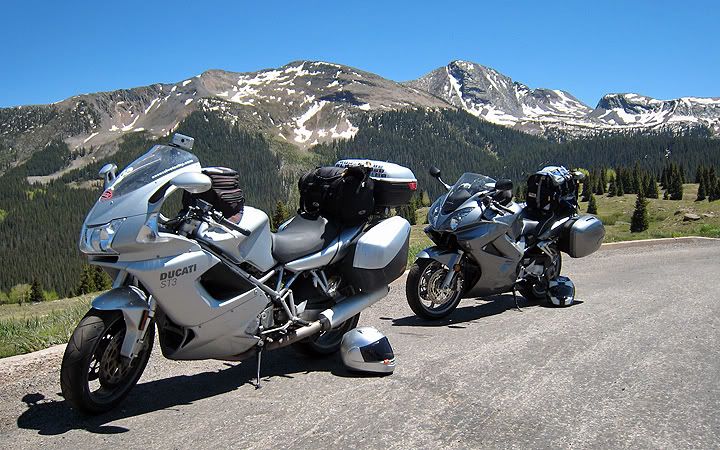 Pulled over at the Molas Pass scenic overlook on highway 550, I got this picture from Dalton's camera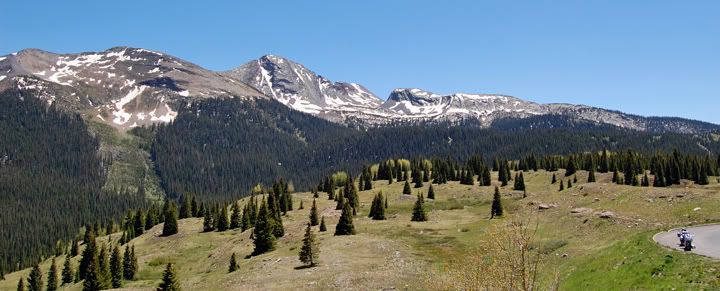 Looking down at the bikes which are parked in the same spot as on the above picture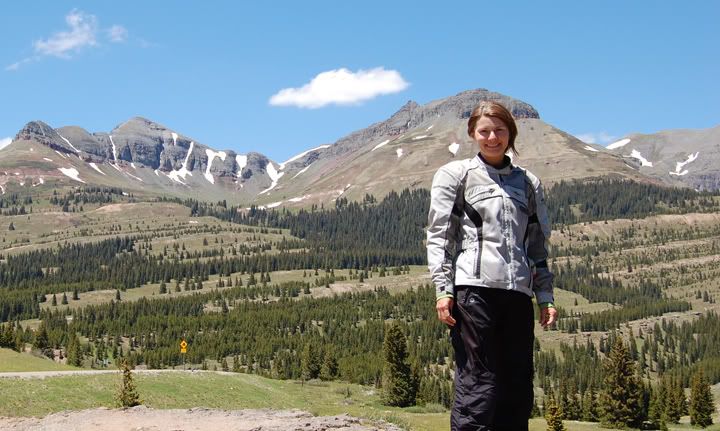 That's highway 550 behind me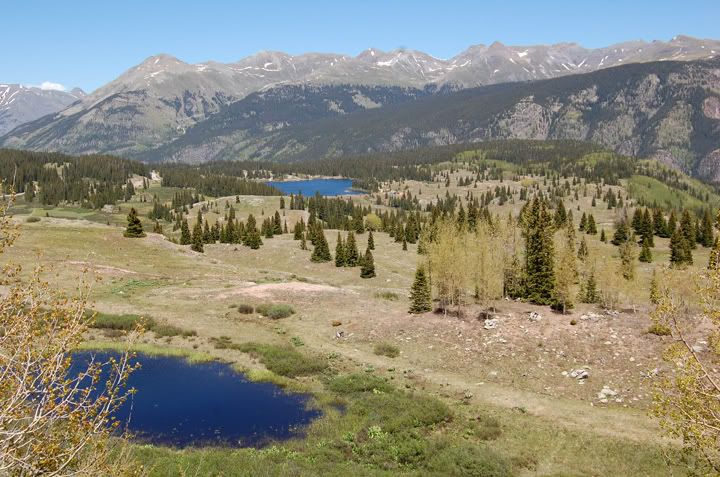 The scenery at the Molas Pass scenic overlook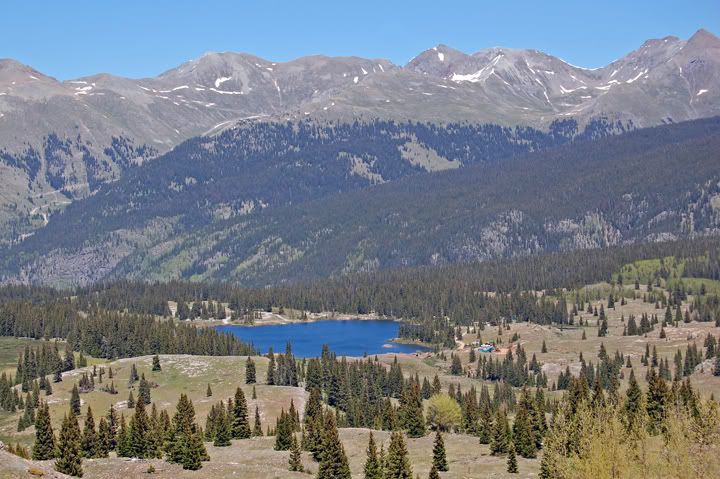 Same view as above, zoomed in

After a longer break at Molas Pass we continued toward Durango. I've always wanted to pull over on the side of the road at the hot spring but I never really know where it is and always end up passing it. This time I was looking for it and even then I almost passed again because it just past a very sweet curves in the road. Too bad there were a bunch cars parked near the hot spring, one of these days I'd like to park my bike right in front of it.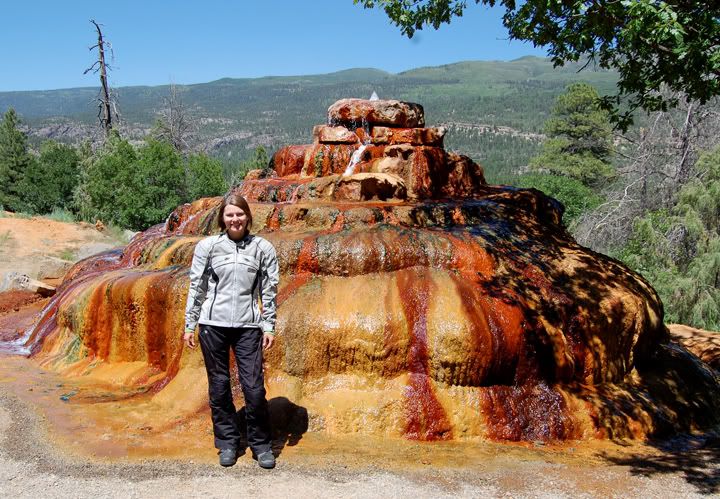 This hot spring is huge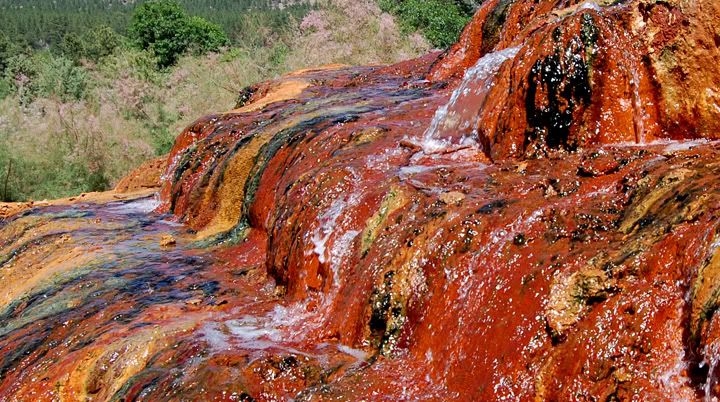 Once we got past Durango we turned west on highway 160. As much as we wanted to utilize our Colorado state park passes on this trip, the state park near Mancos didn't have showers so the plan was to camp at Mesa Verde National Park where I camped last summer. Mesa Verde has some great amenities like a fully stocked store that has tons of snacks and some good local beer, there are also laundry facilities and showers not too far from the campground. The campground at Mesa Verde is huge, so there is usually space. Last night, tonight and for the rest of this trip, we will not have any camping reservations although we have a planned route which includes where we want to camp each night. Hopefully in the middle of the week there will be plenty of camping spots available.
I needed a new National Park Pass, so I ended up getting one today. I love the national park pass, it's a card that you keep in your wallet. Unlike the Colorado state park pass which is a sticker for the car's windshield, but they allow us motorcyclists to just keep it with us instead of sticking it to the motorcycle. Although each motorcycle that enters a state park needs their own state park pass. With the national park pass, I can bring in to the park another motorcyclist on their own bike or as many people that can fit in to my car.
Parked in front of our campsite #63 at Mesa Verde National Park, the campsite is down the stairs to the left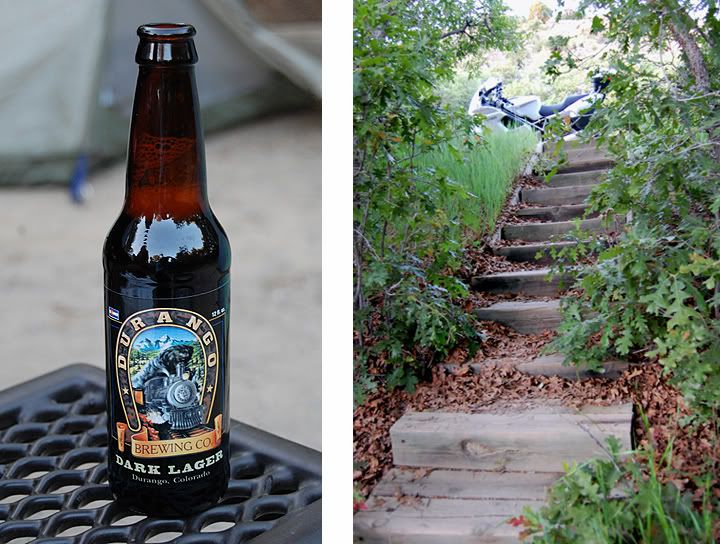 How cool of a national park to stock such good beer in their store, the Durango Dark Lager was delicious (left), looking up the stairs from our campsite where the bikes were parked (right)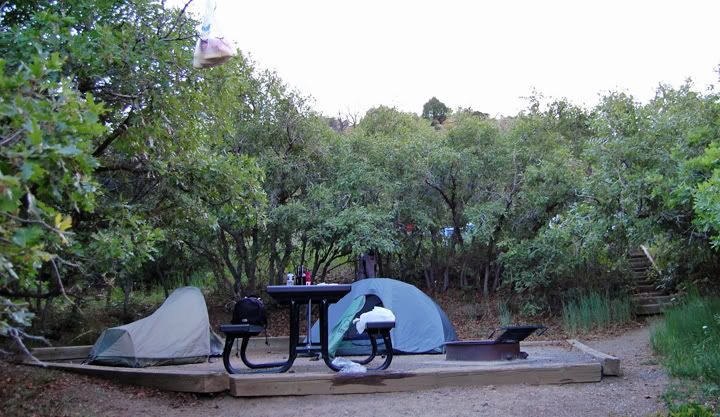 Our campsite at Mesa Verde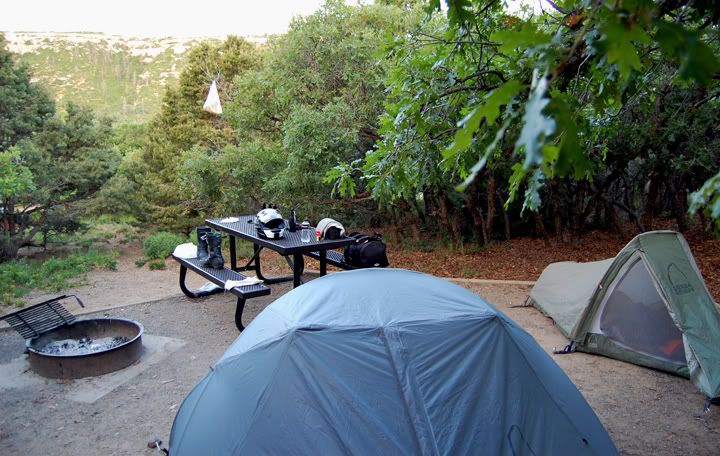 We had some good views from our campsite, although a bit washed out in this picture

After 225 miles today we arrived at Mesa Verde National Park in the early afternoon with plenty of time to get some stuff done. We grabbed a camp site for $20, which has to be purchased at the general store. After setting up the tents we rode over to do some laundry, take showers and get some beer and snacks for tonight. The night was cool, the sky full of stars and the Durango Dark Lager, one of the best beers I've ever had.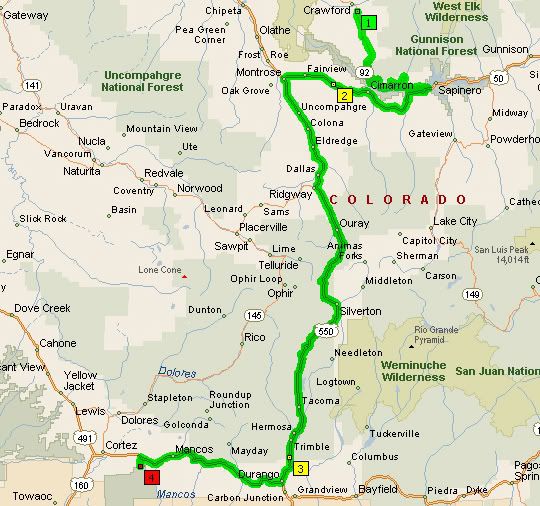 Our 225 mile route today: highways 92, 50, 550 and 160