Sandy, Dalton and I woke up to a beautiful morning. The rain fly's on our tents were still sopping wet, so were the bikes and the grass all around us. With so many trees and lots of shade at the Steamboat Campground, nothing was drying out very quickly.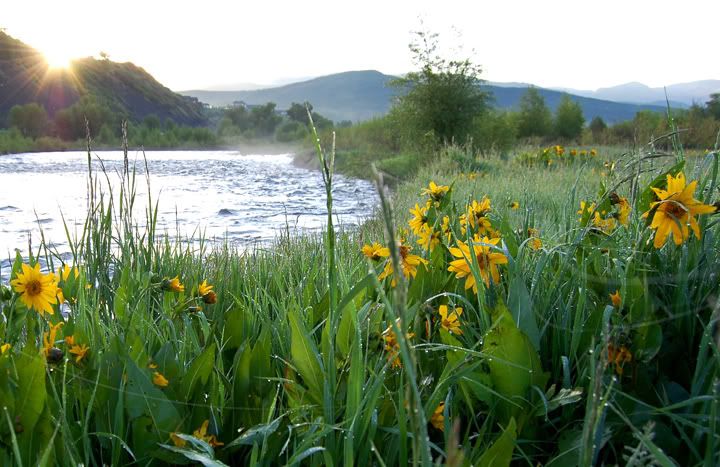 The sun coming up over the Yampa River at the Steamboat Campground in Steamboat Springs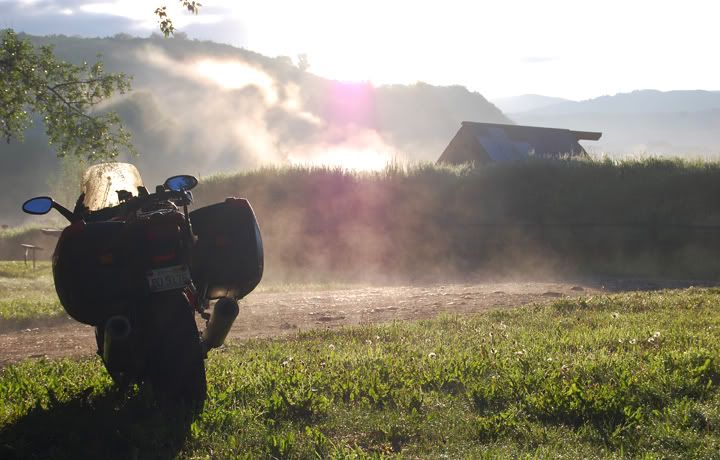 Clouds of mist rising in to the sky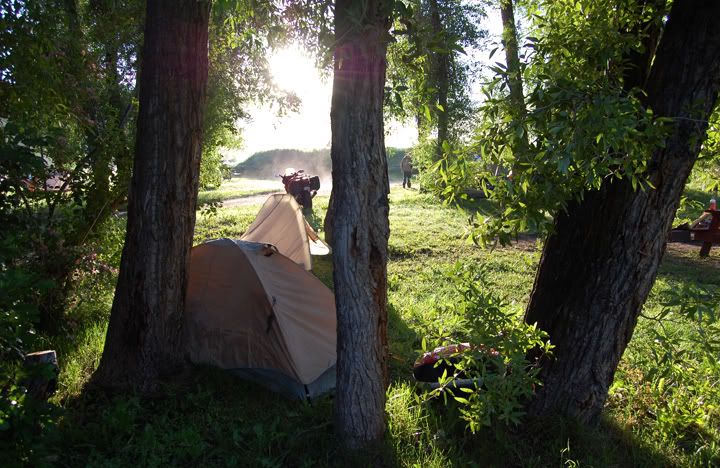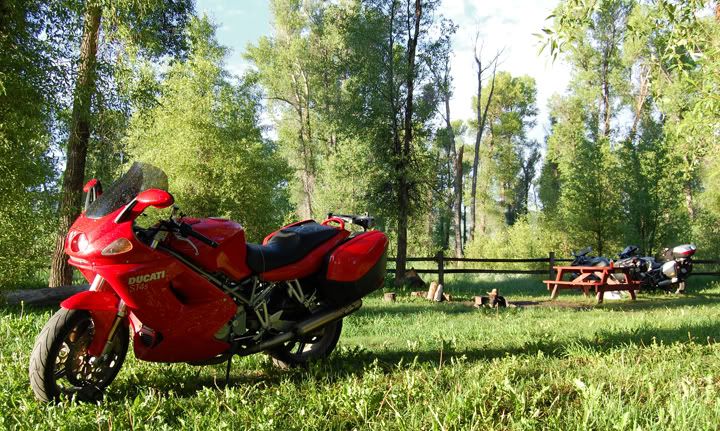 Our campsite at the Steamboat Campground

As the sun got ready to rise I rushed over to the Yampa River to watch it come up over the mountains. One thing I try to do while camping is to watch the sun rise and set each day, of course that doesn't always work out.

The grass was covered in rain and dew, but the moment the sun peaked over the mountains in the east the moisture started to evaporate creating huge misty clouds rising in to the sky. It was one of the coolest sights I've ever seen.

Because everything was wet we had to wait a while before packing up our gear. Just before 10AM the three of us left the Steamboat Campground and pulled over at a gas station in town to gas up. It was also right there that my ST3's odometer turned 30,000 miles.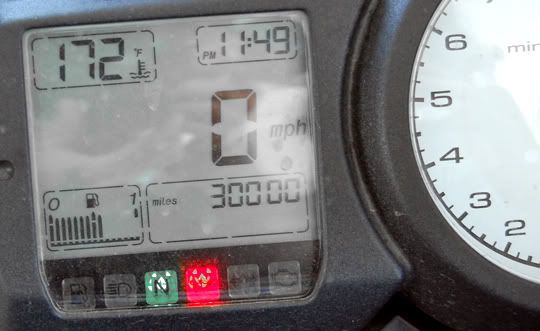 The ST3 made it to 30,000 miles, yes my clock is way off, it was close to 10AM
At the gas station I said good bye to Sandy who would be taking highway 40 and then I-70 east to Denver. Sandy and I had a good ride together, although kind of short. After gassing up the bikes Dalton and I would be heading south on 40 for a bit with Sandy but then we were going to turn on 134 heading west through over Gore Pass and down to 131 south. We were riding out of the way but this detour was happening because 131 just south of Steamboat Springs was under construction and for many miles there was deep gravel which Sandy and I rode through yesterday that I wasn't going to ride through again.

I had never been on 134 so this gave me a chance to check it out. 134 was a good road but nothing spectacular. Gore Pass which sits at 9,527 feet in elevation didn't have any neat signs posted so we just kept going. I really enjoyed riding 131 yesterday, which I did mostly in the rain. Today it was going to be a treat to ride it again in the other directions with the sun shining. The ride down 131 was great but I think the scenery and curves are better heading north.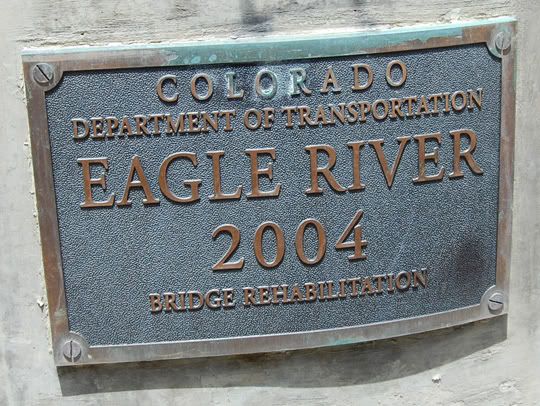 A plaque posted on the bridge on highway 24 above the Eagle River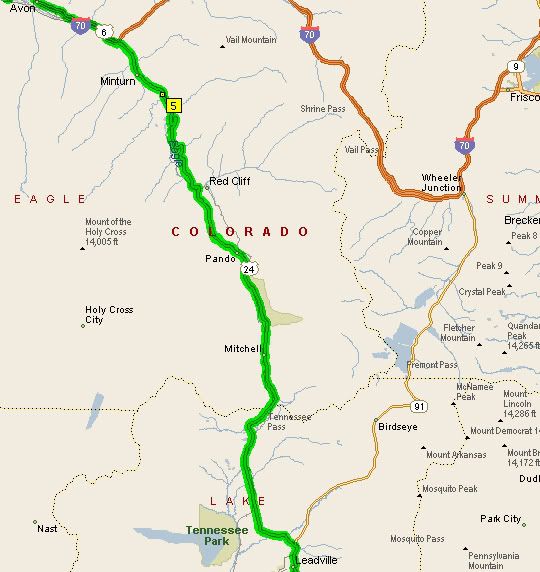 Tennessee Pass and highway 24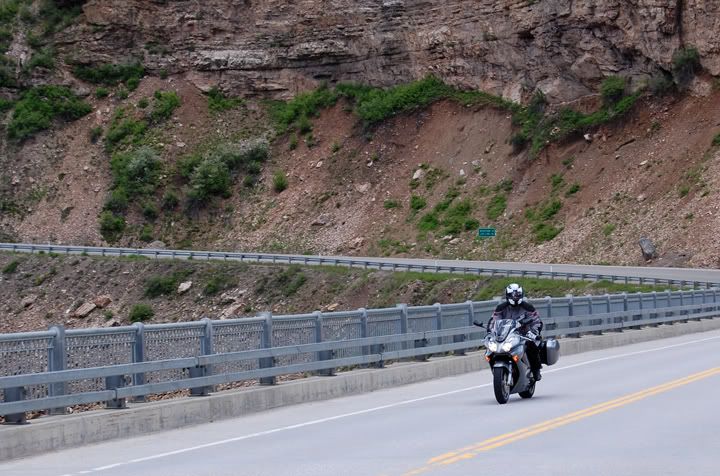 Dalton riding across the bridge on highway 24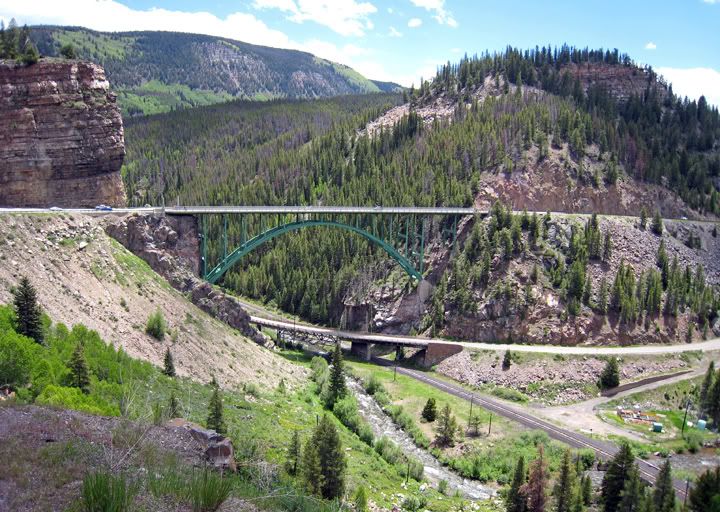 Dalton took these two pictures since there was no level shoulder for me to pullover on - this picture above is of the bridge on highway 24 and the one below of highway 24 looking south just to the right of the bridge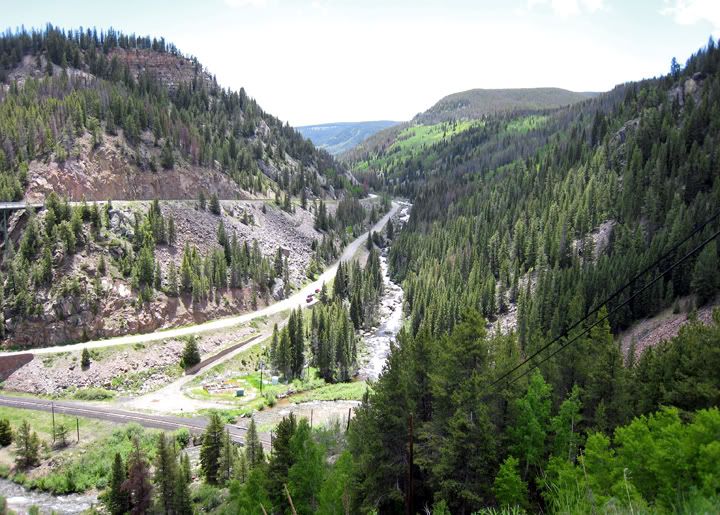 We got to I-70 and rode east for bit and took the exit for 24 south. I have been on this road one other time in 2004 when they were actually building this bridge. It was neat to see it finished. 24 is definitely a great road with some awesome curves and the cool Continental Divide sign at Tennessee Pass at 10,424 feet in elevation. The curves through the pass are not really tight and you have to look hard not to miss the sign which is off to the side of the road near a parking lot.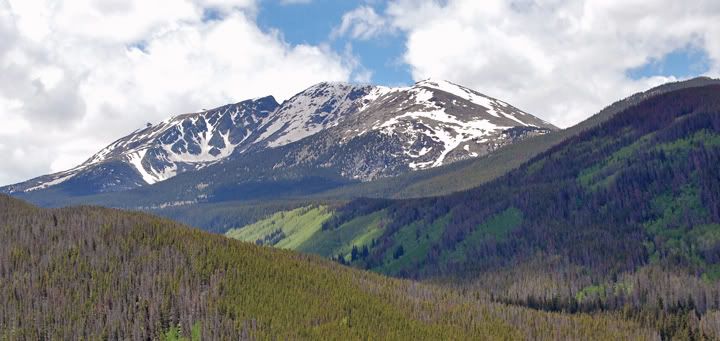 Mountain views from highway 24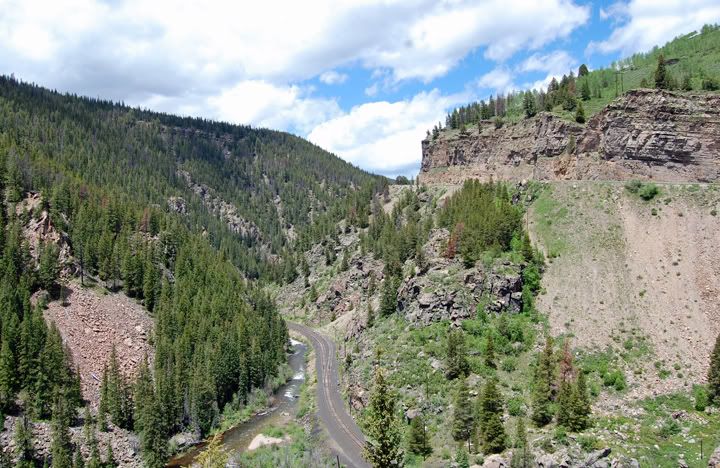 Looking down from the bridge toward the west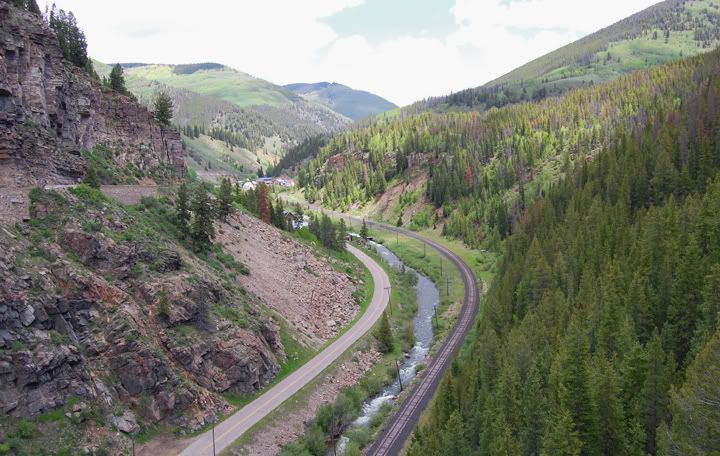 Looking down from the bridge toward the east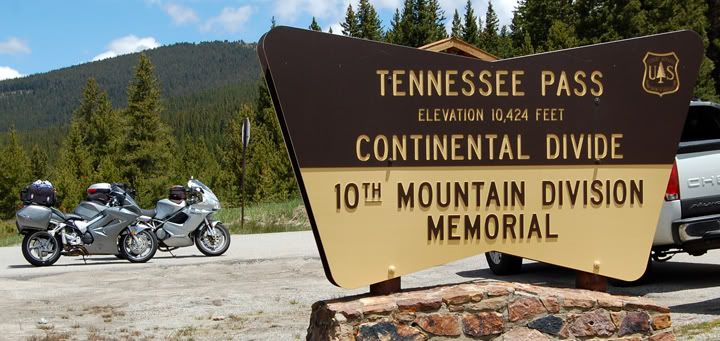 The bikes taking a break at Tennessee Pass at 10,424 feet in elevation
Dalton at Tennessee Pass
From there we continued to Leadville where we decided to have lunch since we only had energy bars for breakfast this morning. We ended up eating at the Tennessee Pass Café on the south edge of town on highway 24. Mostly because there was parking on the street just outside the restaurant, not as crowded as in the center of town. We got lucky because we knew nothing of this place and it ended up being a cool little café with really delicious food. I'd definitely go back and eat here again.
Our yummy lunch at the Tennessee Pass Cafe - quesadillas and enchiladas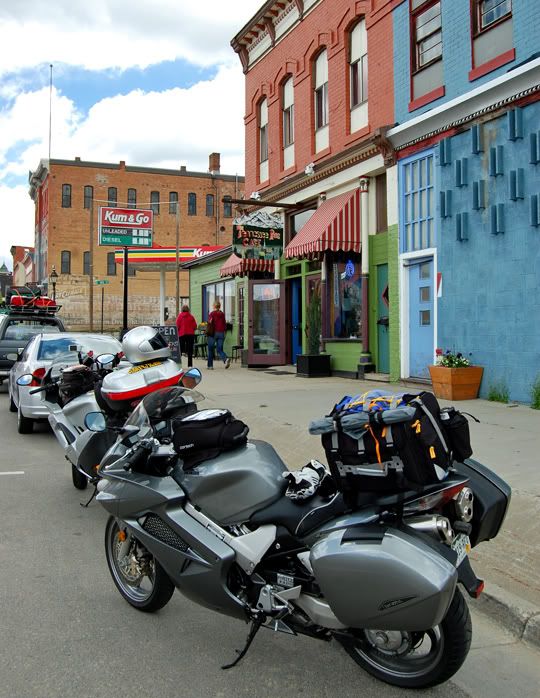 The VFR and ST3 parked outside Tennessee Pass Cafe in Leadville
After lunch we jumped back on the bikes and continued through a couple more mountain passes - Independence Pass and McClure Pass -but more on that in the next post.